Although a lot of people might disagree, I feel like lunch is one of the best meals of the day. I love it more than having snacks. Heck, when I have an awesome lunch I don't even need snacks! Especially when I'm off from work and take the time to make a homemade lunch.. Yum! Who needs fatty snacks when you can have a satisfying good lunch? (Okay, maybe 1 snack. Food's too good to resist, right?) Anyway, as you might've guessed: I'm in love with lunch. Yes, I am. So here are 6 of my awesome lunch ideas you should try. Put it on your "to eat"-list. Wait, what?! Does that exist? Yes, "to eat"-lists are a real thing. Don't judge.
Chorizo grilled cheese with sweet and sour paprika. The crunchy bread with melty cheese and soft pieces of sweet and sour paprika…. So easy and simple but só good.
How it's made: 2 slices of bread, 4 slices of chorizo, 1 Tbsp of sweet and sour paprika, lots of cheese. Assemble, grill and serve. Tip: Add some garlic butter for extra deliciousness.
Second is this curry chicken sandwich. Did you know I love anything curry too? Carb-loaded bread rolls filled with delicious chicken, golden brown onions and crunchy cucumber. Did anyone say "yum" just now?
And we're back to the grilled sandwiches. Grilled sandwiches are the easiest and best quick lunch you can have. This deluxe garlic grilled cheese sandwich is loaded with super creamy avocado and drenched in garlic butter. Not suitable for first dates 😉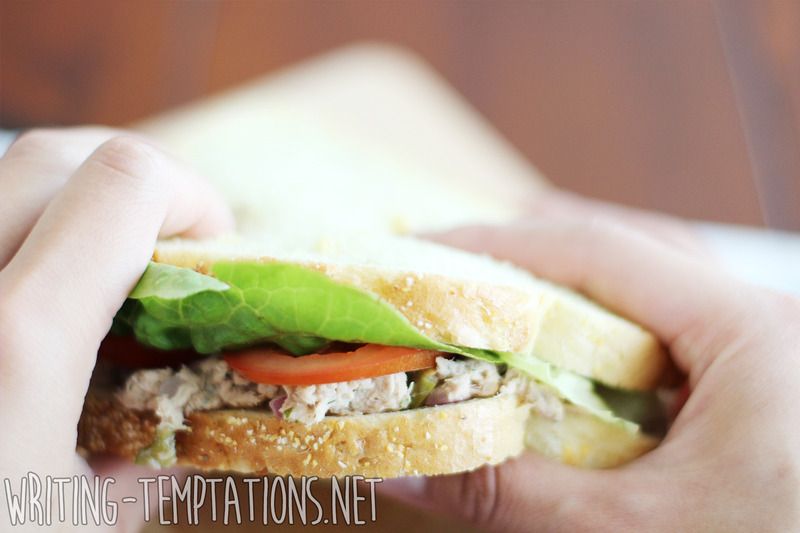 Then there's a homemade tuna salad sandwich. Actual tuna salad, not the store-bought stuff that's loaded with mayonaise and barely any tuna. This one's stuffed with crunchy pieces of pickles and a sprinkle of red onion.
Cheat life with these mock pizza's. Ready in less than 10 minutes and completely adjustable to your taste! Vegan or vegetarian? No problem. Try a "healthy" version using whole wheat bread and low fat cheese too. Don't forget to load up on mushrooms. Mushrooms and pizza (and me) are best friends.
Finally, this Caprese sandwich. The combination of mozzarella, pesto and tomato is ancient but never gets boring. Not to me anyway. Look at that mozzarella oozing off the bread. Add a handful of fresh basil and my life is complete.
How it's made: Bread roll (cut in half), 2 tsp green pesto, 4 slices of mozzarella cheese. Assemble, grill, add tomato, garnish basil and serve.
What's your all time favorite quick lunch?