Creamy melty cheese, crunchy nachos, sweet chili sauce and tangy sour cream topped with a handful of frangrant cilantro. These nachos are super easy and quick to make. Great for movie nights and only 6 simple ingredients!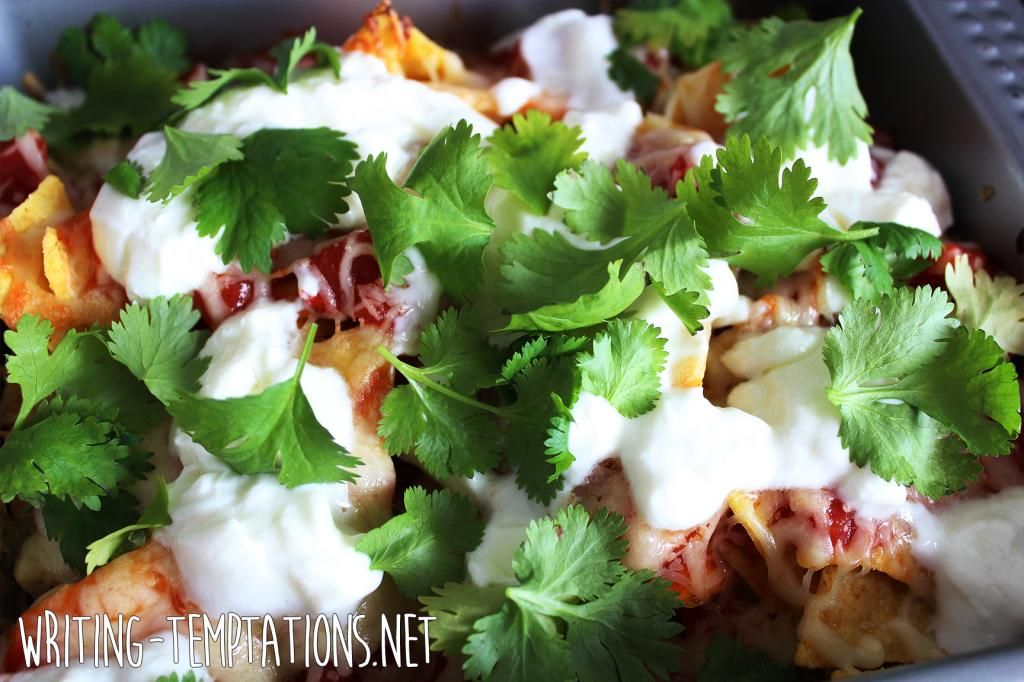 A while ago, while I was at the dentist, I read an article about "trying too much". The article was very interesting and was quite an eye-opener for me. As I read the article (I was 20 minutes too early for my appointment..) I felt like the writer could've been me: stressed out and no inspiration, simply because she was trying too much. So now I'm trying this new thing, where I try to go with the flow. I'm still trying to go somewhere and working for it, but I'm also trying to accept it when things are (temporarily) not moving or moving less than I want it to. Therefor, I'm no longer racking my brains to create a recipe that's super-duper unique and no longer beating myself when my photos aren't better than the best food blog I'm following. No, I'm just going to do what I love and make whatever it is I like to eat. With that being said, today I'm sharing this lazy recipe for Asian style nacho dish. It's super easy, super quick and takes only 6 simple ingredients! And although it tastes like a whole lot of effort, it's prepped in 5 and ready to serve in 15 minutes. I'm not joking.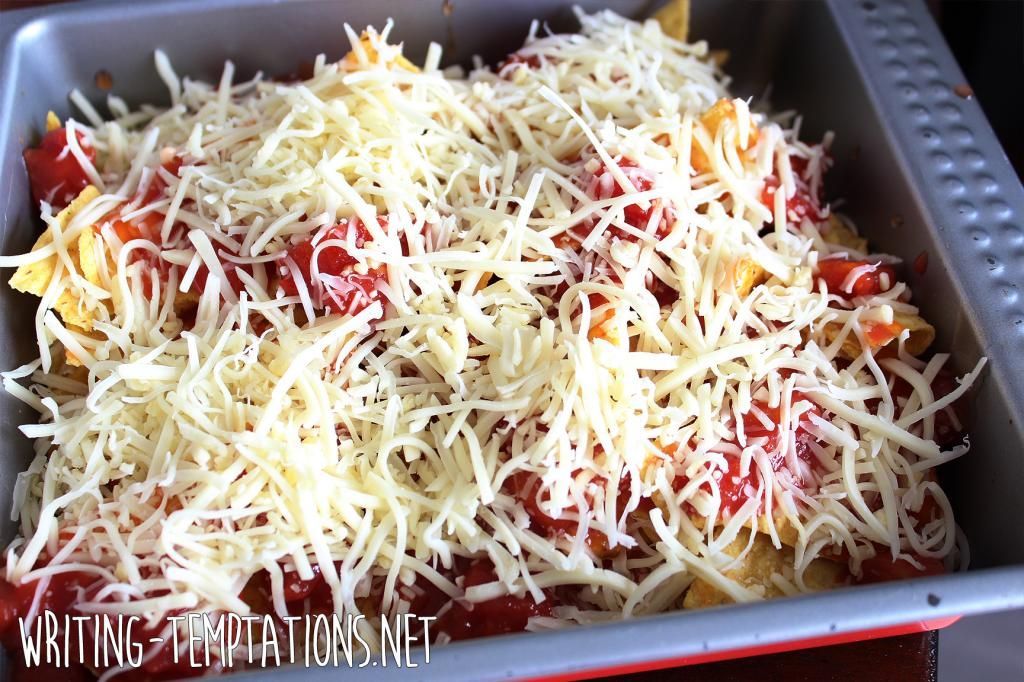 So for this recipe, you will be using nacho chips from the supermarket. You are not going to hassle and make homemade nachos, because you want this snack to be delicious but quick (for some extra pre-movie cuddle-time). Spread the chips in a baking tray of approximately 20×20 cm. You can use a bigger one, but don't go too big, because you want the ingredients to be concentrated. You will want each crunchy nacho to be packed with sauce, cheese and sour cream. Trust me on this one 😉 Then, you will spread the diced tomatoes and chilli sauce on top. I'm estimating 2-3 tablespoons of sweet chilli sauce, but use more of if you like. Top the dish off with a generous amount of grated cheese. Use the kind of cheese that melts well, the kind of cheese that's labeled as gratin-cheese or cheese that's used on pizza's; slightly stringy and very melty.. Yum! I used a mix of Emmental and mozzarella. Then, pop the dish in the oven for 10-20 minutes (Depending on your oven. Mine's quite strong.). As there are no ingredients that have to be "cooked", just bake these until the cheese is exactly the way you like it.
Finally, top the nachos of with dollops of delicious sour cream and a handful of cilantro. Serve these nachos immediately, because they're best eaten straight from the oven: crispy, warm and drenched in melted cheese. This dish will be gone before you know it. So there you have it: Simple Asian Style Nachos. Seriously divine.
What's your favorite homemade snack?
Asian Style Nachos
2014-10-06 21:46:10
Serves 4
Crunchy nachos with a thick layer of creamy melty cheese combined with sweet chilli sauce and tangy sour cream. This delicious dish is perfect as a movie-snack and for parties.
Ingredients
200 g nacho chips (original)
½ can diced tomatoes*
100 g grated cheese
100 g sour cream
2-3 Tbsp sweet chilli sauce**
handful of cilantro
Instructions
Preheat the oven to 200 C.
Spread the nacho chips in a 9x9 baking tray.
Divide the tomatoes evenly over the chips.
Drizzle the sweet chilli sauce on top.
Sprinkle the grated cheese to cover the whole dish.
Bake the nachos 10-20 minutes in the oven or until the cheese is fully melted and has a little bit of color.
Drop teaspoons of sour cream over the nachos.
Finish the dish with a handful of cilantro. Serve immediately.
Notes
*Take ½ can of diced tomatoes, but don't use all the tomato juice, because it can make the nachos soggy.
** You can use more if you like. I'm quite a fan, so I drizzle quite royally 😉
Writing Temptations http://www.writing-temptations.net/