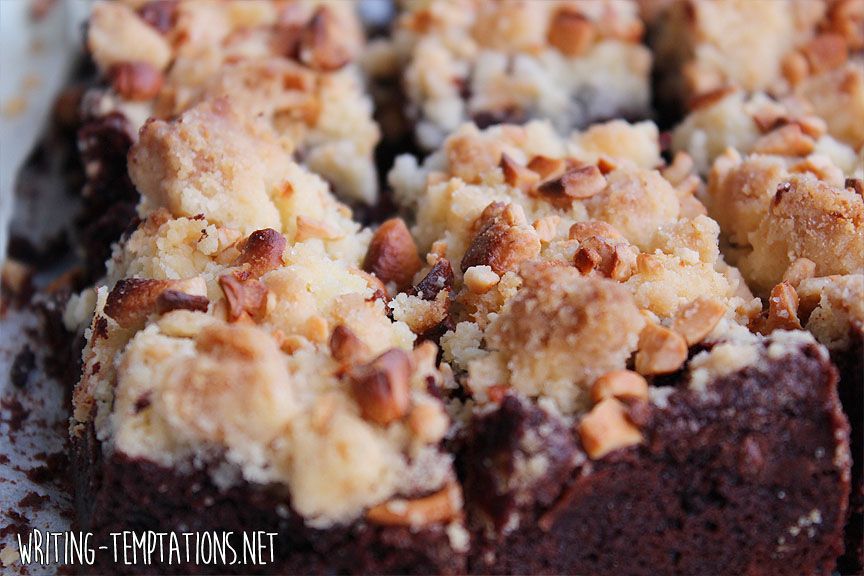 As I'm writing today's recipe, I'm in the bus headed to the last day of my internship at a polyclinic pharmacy. Now, this intern is the second last intern to my Master's degree in Pharmacy. I can't believe time has flown by so fast! The last intern is starting a week from now and my last month as a "poor" student is just one month away! It's almost time to head into the real world and get a proper job instead of th he occasional burger flipping in my evenings and weekends. Of course, there are some companies I'd like to work, but I have yet to actually find a job. The future is making me slightly anxious, because right now it's as insecure as it gets. But for now, I'll just keep looking and keep myself calm with some stress-relieving kitchen adventures.
One of my recent "kitchen-therapies" are these amazing brownies I'm sharing with you today: Cashew crumble brownies. Now, you will love these brownies because there are two amazing components:
The topping, huge crunchy, buttery crumbles mixed with chopped cashews.
The brownies, soft and gooey cake made with a whole lot of extra dark (76%) chocolate.
These brownies are the perfect treat for a sweet tooth, a chocoholic, a soft cake lover, a crumble pie lover.. Basically anyone, actually. With this cake you will experience an explosion of crunch and gooey chocolate cake in just one bite.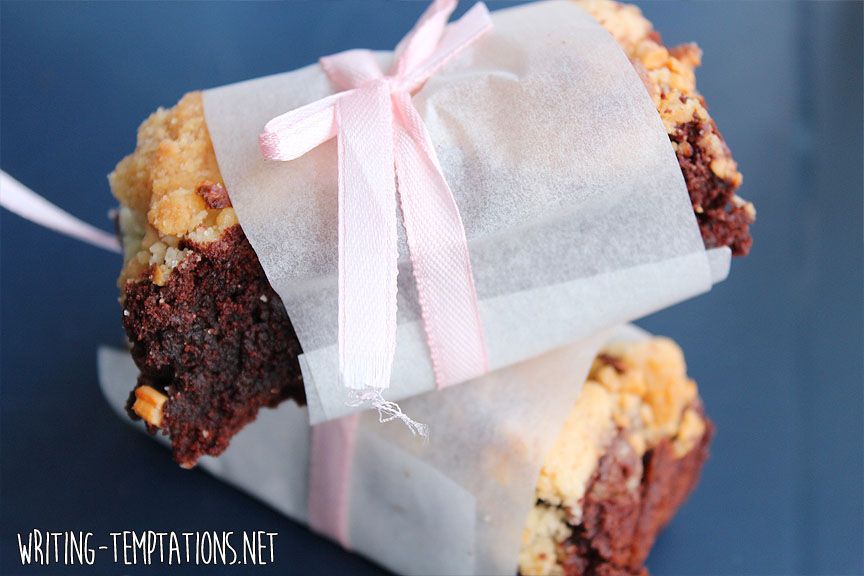 You will start by making the crumbles, so these can chill in the fridge while you are licking making the bowl of brownie batter. Don't skip the chilling, because it makes the crumbles super big and crunchy. To make it even better, use cold and cubed butter. Cold is a must because it aids in creating crumbles instead of dough. The cubing will help with easier incorporation. Throw all your crumble-ingredients in a bowl and use your fingers to create a crumbly mixture.
Now, for the brownies: this is a one-bowl recipe. You will start by creaming the butter and the sugar. This will only work if your butter is at room temperature. Then, you will add your eggs one-at-a-time. After these have been completely incorporated, you will add the molten chocolate while mixing. As for the melting, melt the chocolate au-bain marie or simply pop it a couple of times for 10 seconds in the microwave. Next, you will add all your dry ingredients and fold it to a thick batter. Make sure you don't go wild in this final step, because over-mixing will turn your delicious soft and gooey brownies to dry rubber. Finish your brownies by baking it about 40 minutes at 180ºC. The cake tester will come out slightly wet. Let the brownies cool completely before cutting into bars or bite-size squares. Whatever floats your boat.
Cashew crumble brownies
2014-04-10 22:10:04
These brownies will blow your mind: brownies made of extra dark chocolate topped with chopped cashews and big crunchy crumbles.
Ingredients for the crumbles
100 gram flour
60 gram sugar
60 gram unsalted butter, cold and cubed
Ingredients for the brownies
150 gram unsalted butter, room temperature
250 gram caster sugar
2 large eggs
100 gram extra dark (>70%) chocolate, molten chocolate
65 gram flour
50 gram cocoa powder
¼ teaspoon espresso powder (optional)
¼ teaspoon salt
50 gram cashews, chopped (for topping)
Instructions
Preheat the oven to 180ºC and line a 23x23cm brownie pan with baking paper.
In a bowl, rub the ingredients for the crumbles between your fingers until you get a crumbly mixture. Put the bowl in the fridge, while preparing the brownies.
In a large bowl, cream the butter and sugar.
Add and mix the eggs one at a time.
While mixing, slowly add the molten chocolate. Mix until completely incorporated.
Fold in the dry ingredients (flour, cocoa powder, espresso powder and salt) and mix until just incorporated. Make sure you don't overmix.
Pour the batter in the brownie pan and distribute the crumbles and chopped cashews on top.
Bake the brownies 40-45 minutes at 180ºC. The cake tester will come out slightly wet.
Let the cake cool completely before cutting.
Writing Temptations http://www.writing-temptations.net/