Away from the sugary deliciousness, we're going to see how my quesedillas are made today. Very cheesy quesedillas filled with shredded chicken, caramelized onions ánd heaps of spinach. These quesedillas are crunchy on the ouside, just like your favorite chips. The inside is gooey from the melty cheese and has a bite to it due to the lightly wilted spinach. Cut into smaller pieces, these quesedillas are perfect as party food. Your guests will love them. Guaranteed. As usual, this recipe is super easy to make and requires no-fancy kitchen skills at all. The hardest part of this recipe might actually be flipping the quesedilla. I'm serious.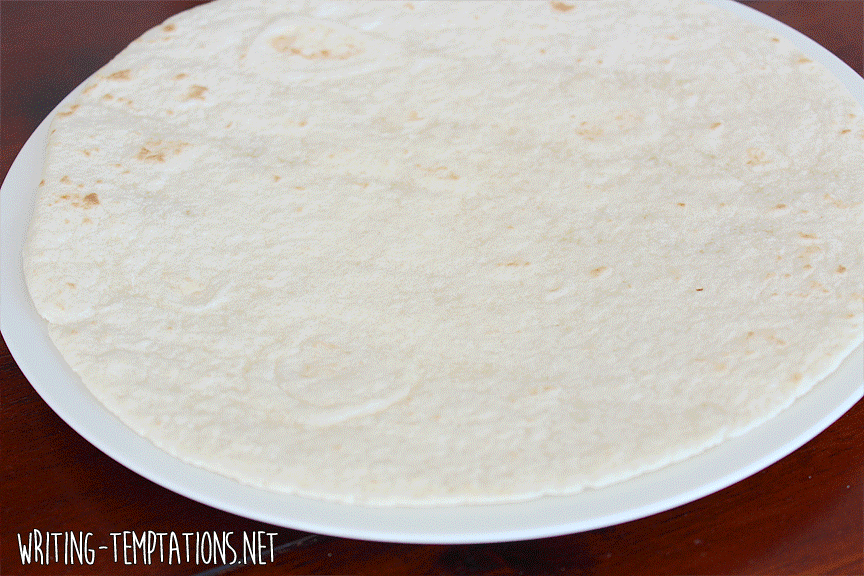 You start by sauteeing and cooking the chicken. You could actually just boil the chicken, but personally I'm not much of a fan of boiling chicken. If wanted, grilling or baking is also an option. Choose whichever method you like, but just make sure the chicken is fully cooked through. Next, you'll want to shred that chicken into little pieces. Using two forks is the best way I know.
Then, you'll want to caramelize those onions to release their natural sweetness. Once caramelized, mix the whole lot with the chicken and add some seasoning. Believe it or not, the biggest part of these quesedillas is now finished.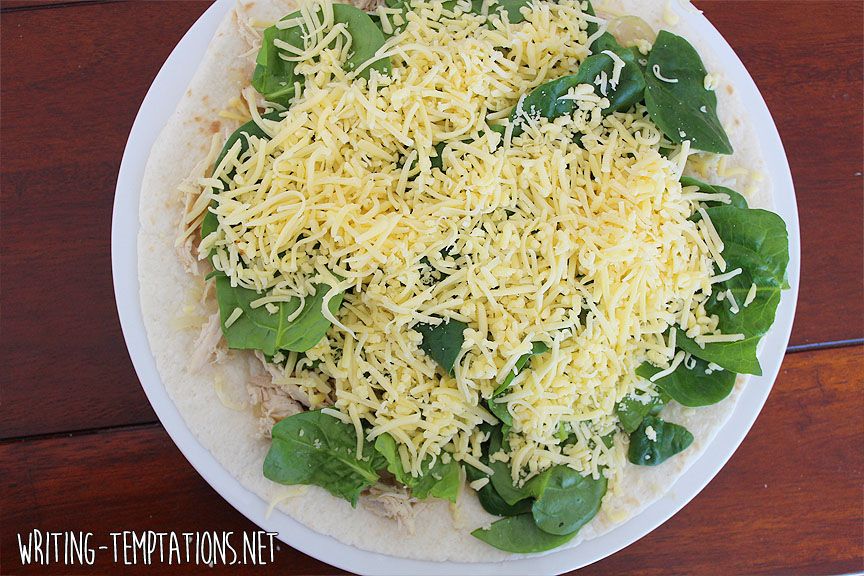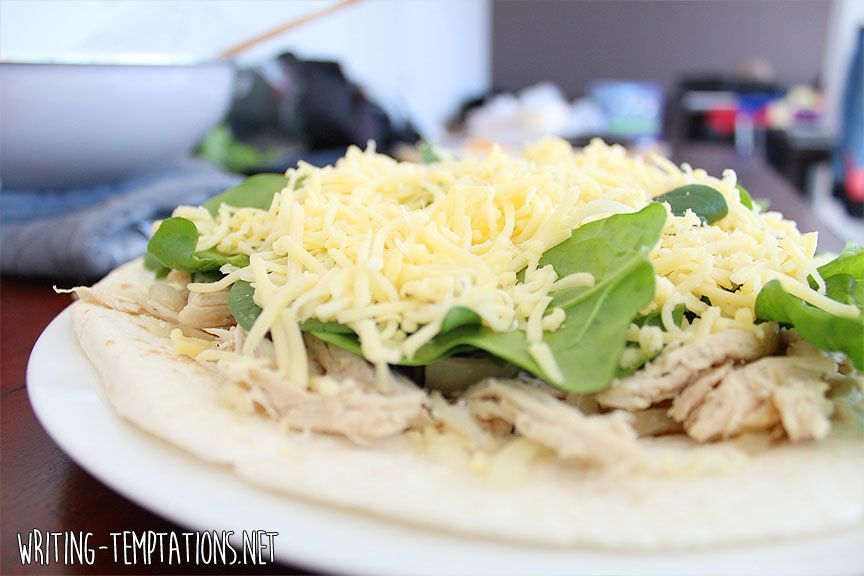 To assemble the quesedillas take a tortilla wrap and put the chicken mixture and spinach on top. I used 25cm tortilla wraps, because those were in my pantry. I'd suggest you use smaller wraps though, to make flipping the quesedillas a little bit easier. Life is difficult as it it, right? ;). To keep some bite in the game, the spinach we add is still raw. Don't worry, it will be delicious after you've baked the quesedillas. And don't be shy to add a mountain of spinach either. The more the better. It will welt when you bake the quesedillas anyway. Then, add the cheese. And this is important: Add lots of cheese. Go ahead, be generous. I used a mixture of grated mozzarella and Emmentaler, because this was what I had on hand. If you prefer any other melty cheese, you should definitely scatter that one on top. You could even make it healthier by using goat cheese. Whatever floats your boat, really. Finally, close the deal by adding another quesedilla to the top. (You could also fill half the wrap and fold it in two. This eliminates the flipping.)
Bake the quesedillas in a non-stick skillet or place them in the oven until golden brown. Using a non-stick skillet with some butter or oil will give you the quickest crispy result you're looking for. Once the quesedillas have turned to a lovely golden color, cut them in smaller sizes to make eating a bit less messy. Serve the hot pieces just like that or with a sauce/dipping on the side. My boyfriend devoured these with some sweet chili sauce, but some sour cream and cilantro would be delicious too!
English Recipe
Nederlands Recept
Kip en spinazie quesedillas met gesmolten kaas
2014-11-26 21:18:21
Serves 4
Quesedillas gevuld met kip, spinazie, gekarameliseerde ui en een dikke laag gesmolten kaas. Heerlijk als snack of warme lunch.
Ingredients
400 gr kipfilet, platgeslagen
3 uien, in ringen
150 gr spinazie, gewassen en uitgelekt
200 gr geraspte kaas*
6 tortilla wraps
½ kopje water
1 El komijnpoeder
½ El knoflookpoeder
peper en zout
olie of boter om te bakken
Instructions
Verhit wat boter of olie in een koekenpan.
Bak de kip aan beide kanten tot goud bruin.
Voeg een half kopje water aan de koekenpan en breng dit aan de kook. Dek de koekenpan af met een deksel en laat het water 10 minuten zachtjes koken of tot de kip gaar is.
Haal de kip uit de pan en scheur de kip tot kleine stukjes. Zet aan de kant.
In a large skillet heat some oil or butter.
Verhit nogmaals wat olie of boter in de koekenpan.
Bak de uien tot gekarameliseerd.
Voeg de kip, komijn, knoflook, peper en zout toe. Meng tot alles gelijk verdeeld is. Breng het mengsel over in een kommetje en zet aan de kant.
Stel de quesedillas samen: verdeel het kip-mengsel, de spinazie en de kaas over een tortilla wrap. Dek af met nog een tortilla wrap.
Maak de koekenpan schoon en verhit op middelhoog vuur nog wat olie of boter in de pan.
Bak de quesedillas tot goudbruin aan elke kant.
Bake the quesedillas until golden brown on each side.
Snijd de quesedillas in stukken en serveer direct.
Notes
*Gebruik een type kaas dat goed smelt. Ik heb een mengsel van mozzarella en Emmentaler gebruikt.
Writing Temptations http://www.writing-temptations.net/