Flavorful firm tofu stuffed with meat, covered in thick oyster sauce. Serve with hot steamed rice.
When I was little I was a very picky eater. This (amazingly easy) savoury egg custard was one of the few dishes I loved. It took me quite a few years to really appreciate my dad's amazing cooking skills! Nowadays, there's not enough time in a year to (eat and) learn how to make all my dad's food. But we've gotta start somewhere and today's one of the dishes my dad taught me: Yong Tau Fu, chinese stuffed tofu. It's easy and super delicious. Trust me, once you've tried this, you'll be addicted.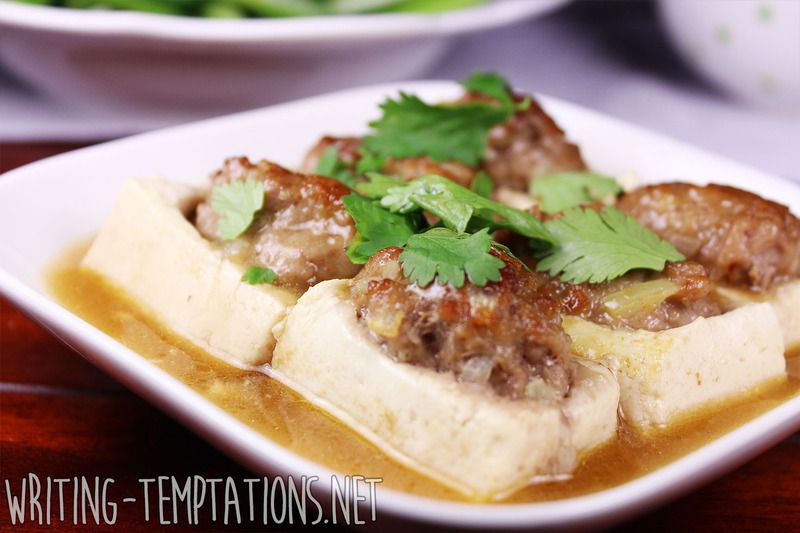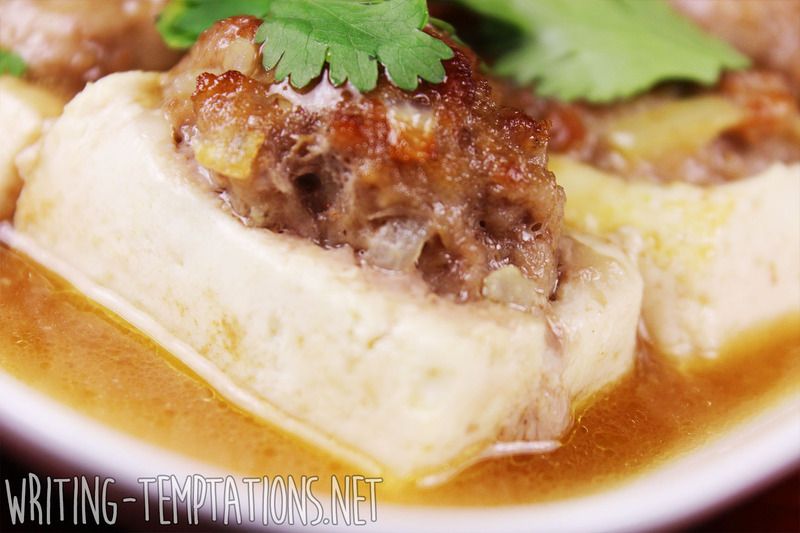 Love,
My Linh
What's your favorite family-dish?
Chinese Stuffed Tofu (酿豆腐)
2015-03-12 14:35:51
Flavorful firm tofu stuffed with meat, covered in thick oyster sauce. Serve with hot steamed rice.
Ingredients for the stuffing
190 g ground pork
2-3 pcs shrimp, shelled and deveined
2 shallots
2 tsp corn starch
½ tsp oyster sauce
½ tsp sugar
salt and pepper, to taste
Ingredients for the tofu
1 fresh tofu, cut into 10 rectangles
2½ tsp corn starch
Ingredients for the sauce
1 Tbsp cooking oil
3 cm ginger, smashed
2 cloves garlic, smashed
60 mL boiling water
2 Tbsp oyster sauce
1 tsp sugar
2½ tsp corn starch
3 Tbsp cold water
¼ tsp sesame oil
Instructions
In a food processor, pulse the ground pork, shallots, corn starch, oyster sauce, sugar, salt and pepper until smooth. The shallots should be finely chopped.
Add the shrimps and pulse a couple more times. You'll want to have chunks of shrimps for texture. Set aside.
Using a teaspoon, make small wells in the tofu.
Cover the surface of each well with about ¼ teaspoon corn starch.
Fill each well with about 1 teaspoon of meat filling. Press the meat lightly, but firmly, into the tofu. Set aside.
In a large skillet, heat the cooking oil on medium high heat.
Add the smashed ginger and garlic and fry until fragrant.
Add the stuffed tofu, meat side down, and fry until golden brown.
Flip the tofu over and add the boiling water*, oyster sauce and sugar.
Cover the skillet with a lid and let it cook on medium low heat for 10 minutes (or until meat is fully cooked through).
Remove the tofu from the skillet (leave sauce in the pan).
Mix corn starch with with cold water and immediately add it to the pan, while stirring. Stir until mixed evenly.
Add sesame oil and cook the sauce until it has the desired thickness.
Pour sauce on top of stuffed tofu and serve immediately.
Notes
* If you use cold water, bring it to a boil before moving on to the next step.
Writing Temptations http://www.writing-temptations.net/