Very soft and super moist chocolate banana cupcakes, topped with a thick layer of creamy and fluffy cappuccino buttercream. Just like bakery-cupcakes (but better).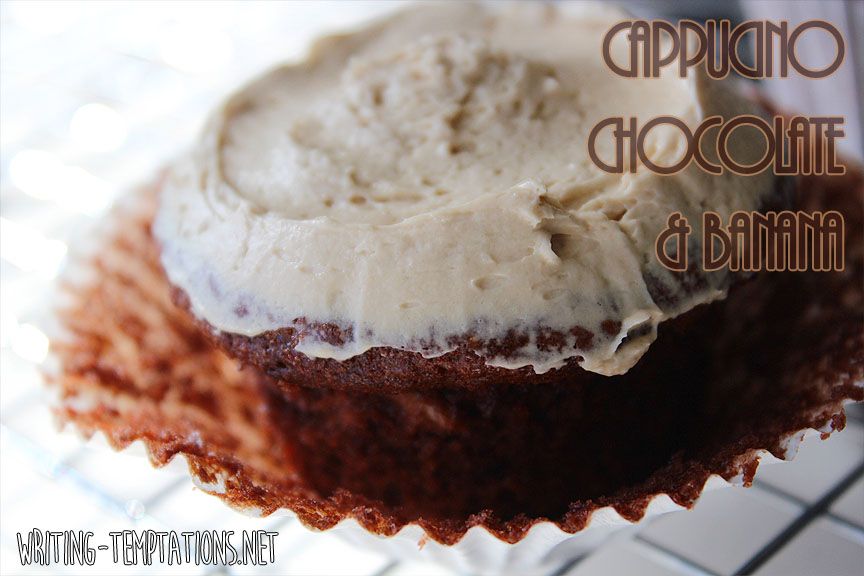 Last week I went home early from my internship twice! Now, I'm not the kind of person that calls in sick that easy, but the headache was horrible. Currently, I'm writing a headache-diary for my doctor so we can finally determine what kind of headache this really is and what treatment I need. And boy, do I need a treatment. I've slept (well, tossed and turned while laying in the dark really..) over 24 hours in two days to get over the headache xD That's 50% loss of time, people! I could've been baking.. or even better: eating 😛 On top of that, my voice is completely gone at the moment. Well, I can still do this whisper-kinda-thing but it takes quite some effort lol… And the funniest part? I never get any phone calls -usually just apps- and just when my voice decides to call it quits, people feel the need to actually call me.. -___-" Got laughed at at least three times today. Thank god for self-humor 😉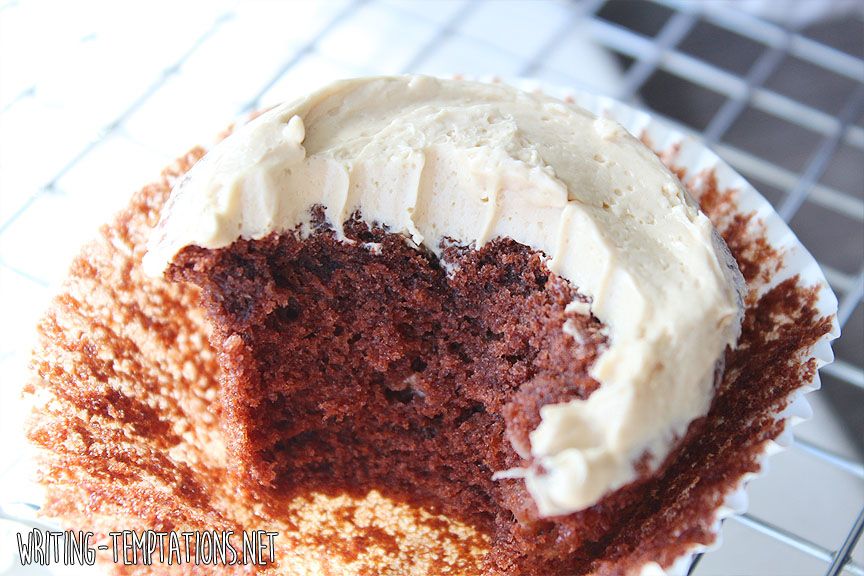 Anyway, between the sleeping, working and other stuff, I still managed to do some baking. Oh, I'm so good at finding time for fun stuff, you guys… 😉 So I made these SUPER MOIST banana chocolate cupcakes. Seriously, they were still soft and moist after three days. I couldn't test it longer, because they were gone so fast. My colleagues and boyfriend absolutely loved these. The chocolate flavor is so prominent and that hint of banana just adds that little bit of *bang* to these cupcakes. To be honest, these cupcakes don't even need frosting. However, I couldn't resist to make some frosting so I smeared a thick layer of cappuccino frosting on top.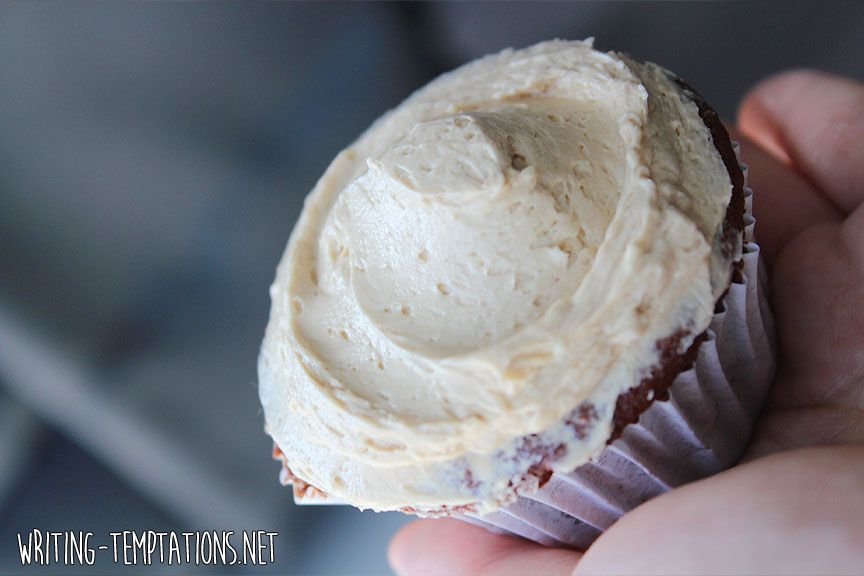 Both cupcakes and frosting are so easy to make! The cupcake batter is a one-bowl recipe. (Less dishes!) You will start by bringing the butter for both components to room temperature. Once softened, you will mix the flour, sugar, baking powder, cinnamon and salt with the butter. Then, you will gradually add the milk to the mixture, after which you'll incorporate the eggs one by one. Finally, you'll add your banana puree and the batter is done!
For the frosting you'll need just four simple ingredients:
Butter
Confectioner's sugar
Espresso powder
Milk
Basically, you will just beat these four ingredients to a fluffy and light buttercream. The longer you beat the cream, the fluffier it gets. Try it. Love it.
Once your cupcakes have been baked and are completely cooled, you can start the frosting. Use a piping tip or simply slap some frosting on the cupcakes using a spatula. It's completely up to you 😉 Store these in the fridge in an airtight container. Let the cupcakes come to room temperature before serving.
Chocolate Banana Cupcakes with Cappuccino Frosting
2014-05-25 23:37:02
Serves 12
SUPER moist chocolate banana cupcakes frosted with a delicious fluffy and creamy cappuccino buttercream. These cupcakes will stay moist for a long time.
Ingredients for the cupcakes
80 g unsalted butter, room temperature
120 g flour
140 g caster sugar
2 tsp baking powder
1 tsp cinnamon
¼ tsp salt
120 mL (skim) milk
2 eggs
120 g ripe banana puree*
Ingredients for the buttercream
2 Tbsp (skim)milk
½ tsp espresso powder
110 g unsalted butter, room temperature
200-300 g confectioner's sugar
Directions for the cupcakes
Preheat the oven to 170C and line a muffin pan with cupcake liners.
Mix the butter, flour, sugar, baking powder, cinnamon and salt to a crumbly mixture.
While mixing, gradually add the milk until completely combined.
Incorporate the eggs one by one.
Finally fold in the banana puree.
Divide the batter over the cupcake liners and bake 15-20 minutes at 170C or until a cake tester comes out clean.
Let the cupcakes cool completely before frosting.
Directions for the buttercream
Heat the milk with the espresso powder in the microwave until dissolved (10-20 seconds)
Mix the butter with about ½ of the confectioner's sugar.
While mixing, gradually add the espresso solution.
Keep on adding confectioner's sugar until you get the flavor and consistency of your liking.
Use buttercream immediately or store in fridge.
Notes
* puree of approximately one medium-large banana
Writing Temptations http://www.writing-temptations.net/