This soft chocolate chip cranberries bread will be gone before you know it. It won't even have enough time to cool. There's no butter, but heaps of semi-sweet chocolate chips and a whole lot of cranberries waiting for you in every slice, every bite.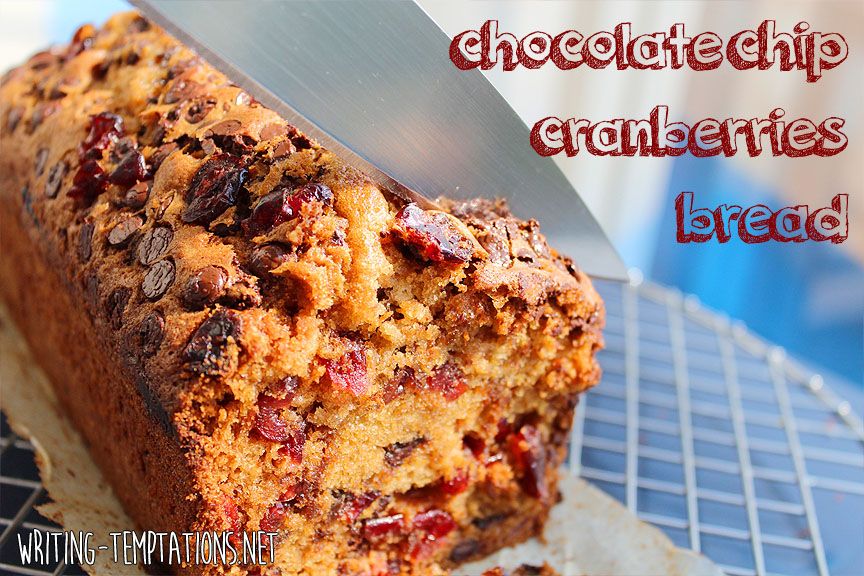 As promised, no more cupcake recipes this week. Instead, today will be a bread recipe… I think. Let me share a little confusion with you guys, because I was kind of puzzled as to how to categorize this recipe. Here's the thing: After years of reading baking blogs, I know today's recipe is called a bread-recipe in America/USA/English. However, if I were to serve this bread over here and tell people to have a slice for breakfast, they'd think I'm joking and set it aside to 4:00 PM, tea-time. So looking at the ingredients and tasting every bite of this Chocolate Chip Cranberries Bread, I realize that us Dutchies actually call this bread a 'cake'. Now, this makes things even more confusing, because a 'cake' is something completely different in English. The English 'cake' is actually the Dutch 'taart'. But the Dutch taart translates to 'pie' in English, but isn't the same as a pie… Do you still get it? I'm sure you don't. But to be honest, I don't even understand how this difference was created. However, it is quite amusing to see how two languages have similar words with different meanings, don't you think? Anyways, as I'm writing in English, today's recipe will be categorized as 'bread'.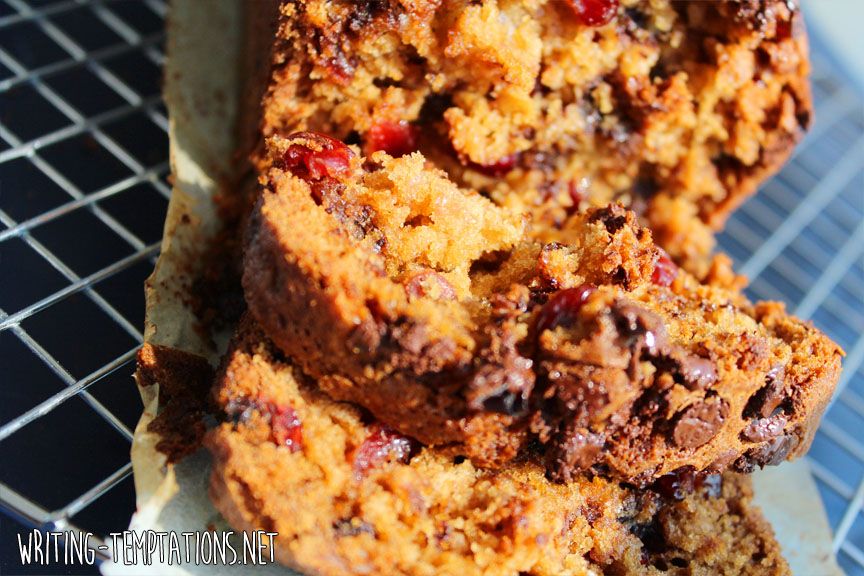 So enough with the jibber-jabber and on to the recipe. As usual, I have a super easy recipe for you. There are just a few things you need to throw together before you can pop this baby into the oven. There is no (handheld) mixer needed. You will start by roughly mixing the dry ingredients in a bowl. This can be done with a spoon and takes just a few seconds. It doesn't have to be 100% evenly distributed. Take a tablespoon of this mixture and mix it with your chocolate chips and cranberries. This little trick will make sure the chips and cranberries are distributed evenly throughout the bread. A little bit of chocolate and a little bit of cranberry in every bite, every slice. Then, you will mix the wet ingredients in your mixing bowl. A whisk should do the trick. Carefully mix the wet and dry ingredients to a smooth batter and mix until just incorporated. You don't want to overmix, because it will create a dry and though bread. (Ideal for French Toast though!) Finally, fold in your chocolate chips and cranberries. Your batter is now ready for baking. Yes, it is that quick.
Transfer the batter to a bread pan that has been lined with baking paper. You'll want to leave some baking paper hanging over the edges, so you can easily lift the bread out of the pan once it has been baked. I can't make it any easier. Then, pop the bread in a preheated oven of 180C. The bread will take about 50 minutes to bake. Check the bread several times during baking to see if the top might get too dark. Don't worry if it does, because you can grab a piece of aluminum foil, cover the top and keep on baking. The bread is done when a cake tester comes out with dry crumbs (and smudges of melted chocolate). If you plan to serve the bread warm, serve it immediately after slicing. If not, let it cool completely before slicing. Serve this bread with a hot cup of coffee or tea and I guarantee your guests will be satisfied.
Chocolate chip cranberries bread
2014-04-21 20:26:28
Serves 12
Soft and sweet bread filled with semisweet chocolate chips and dried cranberries. This bread is great for a sunday brunch, but can be delicious with your daily cuppa tea or coffee too!
Ingredients
250 g all purpose flour
1 tsp baking soda
¼ tsp salt
100 g chocolate chips
150 g dried cranberries
1 large egg
75 g dark brown sugar
125 g caster sugar
240 mL buttermilk
80 mL oil
2 tsp vanilla extract
Instructions
Preheat the oven to 180C and line a bread pan with baking paper.
In a bowl, mix the flour, baking soda and salt.
In a small bowl, mix the chocolate chips and cranberries with a tablespoon of the flour mixture. Set aside.
In a large bowl, mix the egg, sugars, buttermilk, oil and vanilla extract to a smooth liquid.
Add the flour mixture and mix until just combined. Take care not to overmix.
Fold the chocolate chips and cranberries in the batter.
Pour the batter in the bread pan and bake the chocolate cranberries bread for 50 minutes at 180C or until golden brown.*
Let the bread cool completely or serve immediately after slicing.
Notes
*If it looks like the top is getting too dark, cover with a piece of aluminum foil.
Writing Temptations http://www.writing-temptations.net/