Zesty and fragrant lime cilantro grilled chicken served on a crispy bread roll with creamy avocado, pickled onions and fresh vegetables.
So the weather's been crazy lately! Just a couple of days ago the sun was shining like no other. No joke, we were enjoying an amazing temperature of 22 C. Yes, in October! However, today, as I'm writing this anyway, rain is pouring down like no other. Luckily, I chose to make today's sandwich on the 22 C-day and got to enjoy it with the sun burning on my skin. The perfect lunch. Especially because this cilantro lime grilled chicken has it all: sweet, sour, creamy, crunchy. You name it. Additionally, it's super easy to make. You know me, I just love easy (but delicious) recipes. 😉
So the best part of this recipe is the fragrant grilled chicken. Grilled chicken is your best friend if you're looking for quick and easy. You'd think something so delicious would take a lot of work, but it really does not. Just make sure you flatten the chicken to make marinating and grilling faster. Then, dunk the ingredients for the marinade in a zip-loc, add the chicken and let it sit for about 30 minutes (or more if you like). Once your chicken is ready, heat up your grilling pan and grill each side for about 5 minutes.
The second best part to this sandwich are the pickled onions. And once again, this is oh so easy to make: Heat up some vinegar and water, drop in your sliced onions and let it sit for 30 minutes. You could do this simultaneous to marinating the chicken. Just a tip to save you some time 😉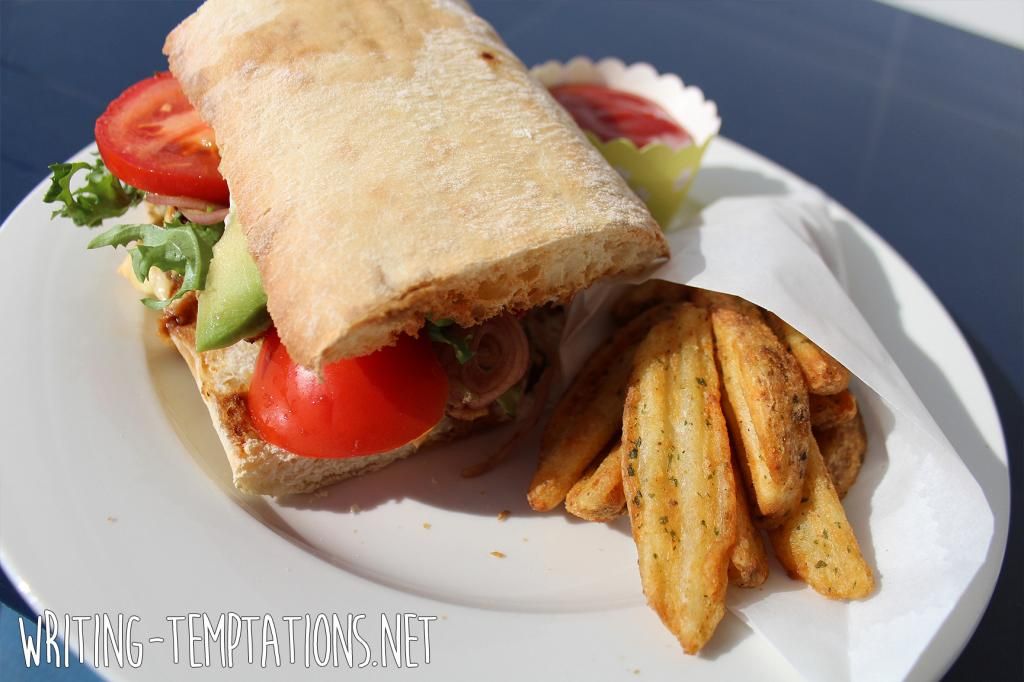 Serve this delicious sandwich with a (small) portion of fries or wedges and add a whole lot of ketchup too 😉 Like I said: The perfect lunch. I just know you will love it.
Cilantro Lime Grilled Chicken Sandwich
2014-10-07 20:42:38
Serves 2
A delicious and rich sandwich with a thick layer of mayonnaise, lime cilantro grilled chicken, creamy avocado, sweet and sour pickled onions and fresh vegetables. Serve with fries and ketchup. Perfect for a special lunch.
Ingredients
2 large chicken breasts, flattened
2 Tbsp honey
2 Tbsp olive oil
1 tsp cumin
1 lime, zest and juice
handful of cilantro, chopped
pepper and salt
1 small onion, thinly sliced
½ cup red vinegar
1 Tbsp sugar
2 bread rolls, grilled
2 Tbsp mayonnaise
1 tomato, sliced
1 avocado, sliced
lettuce/mixed greens
Instructions
In a ziploc bag, marinate the chicken at least 30 minutes with the honey, olive oil, cumin, lime zest, lime juice, cilantro, pepper and salt.
To make the pickled onions: heat the vinegar and sugar until sugar is completely dissolved. Add the onions and set aside for 30 minutes at room temperature.
Grill the chicken breast 3-5 minutes on each side (depending on the thickness of the chicken breast).
Cut the bread rolls in half and spread mayonnaise on one side of each roll.
Assemble the chicken, tomato, avocado, pickled onions and lettuce to a sandwich.
Serve immediately with fries and ketchup or mayonnaise.
Writing Temptations http://www.writing-temptations.net/