Korean style pancake with oozing cinnamon sugar filling. This pancake is crispy on the outside and chewy on the inside. Delicious on cold winter days.

Goodday my darling muffins! I am so so excited to share today's recipe with you guys. More excited than I was with sharing Cilantro Lime Grilled Chicken Sandwich or Cheesy Chicken and Spinach Quesedillas. Because in just a couple of minutes, I'm sharing my version of sweet cinnamon sugar hotteok. I made these using the hotteok press I bought in Seoul! With this recipe, I'm taking you with me to relive one of the best foodporn moments in Korea: The moment we tried our first sweet 호떡 (hotteok/hoddeok).
Hotteok is a Korean style stuffed pancake. The one we had was crispy on the outside and oh so deliciously chewy on the inside. However, there are so many variations of sweet and savoury hotteok (check out the video on Seoulistic). In Seoul we ended up trying a savoury vegetarian hotteok and a sweet hotteok stuffed with seering hot oozing cinnamon sugar that's almost caramel-like. (Drooling yet?) The inside of the latter is just amazing gooey sweet stuff. It's so wrong, but so good.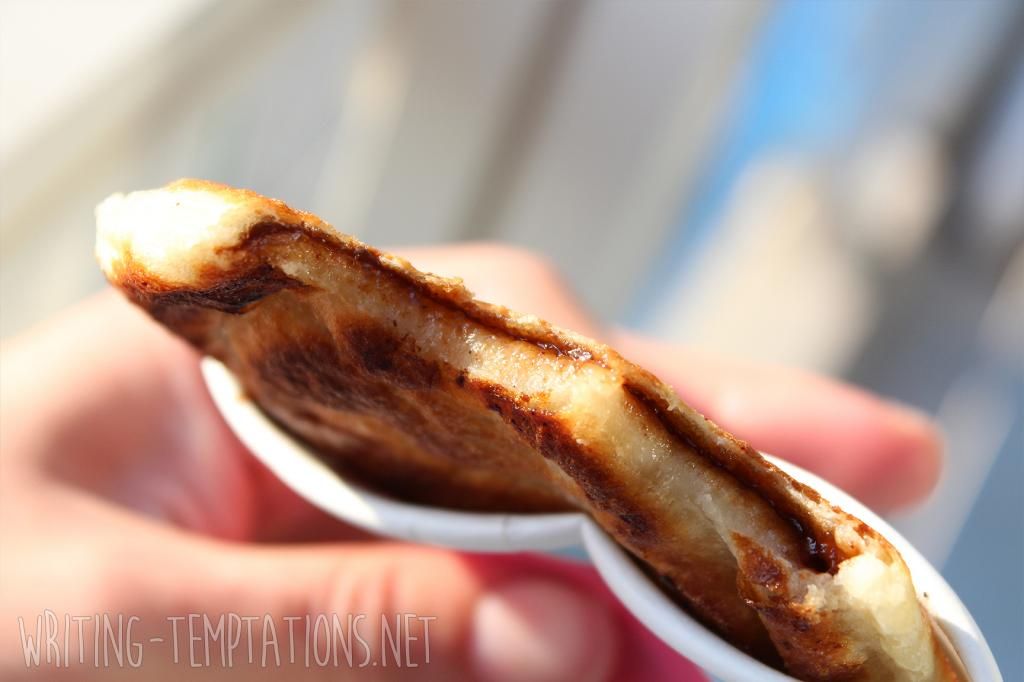 Surprisingly, the basic recipe for hotteok was really easy. According to Wikipedia, hotteok is made from flour, water, milk and yeast. Based on Chinese pancake recipes, I added glutinous rice flour to the recipe to make the pancake extra chewy. I just loved loved loved the chewyness of the hotteok we had in Seoul. As for the filling, you will need just two very simple ingredients: brown sugar and cinnamon. Yeah, strange huh?! So easy! You could also add some chopped nuts, but I didn't have those one hand.
To make the hotteok, you simply mix the dough ingredients together and let it prove. Then, you will punch it down, fill pieces of dough with your stuffing and rol it to a ball. To turn the balls into pancakes, you simply fry one side, flip it over and press it down with a hotteok press (a bowl and a big flat spatula can be used to). Both sides need just a couple of minutes. And that's it. That was the last step! You're ready to serve. Really?! Yes, really. BUT: Be very careful biting into these, because the sugar is crazy hot! It's so tempting (I know!), but really give it some time to cool before you sink in your teeth. Don't be impatient like me. I burned my tongue eating these. Multiple times. xD Enjoy <3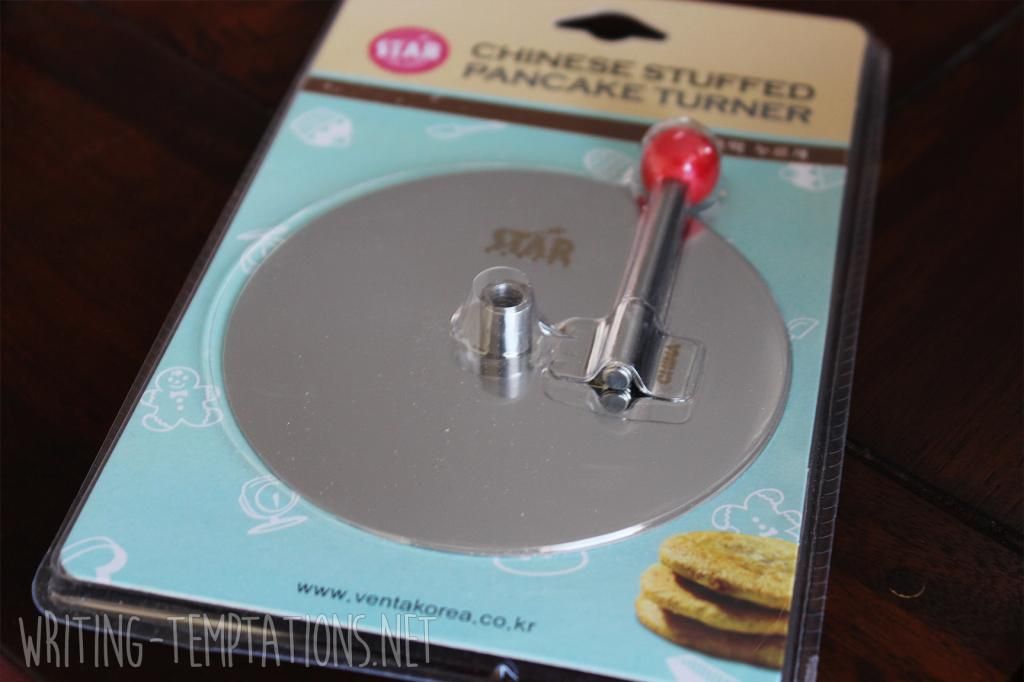 Cinnamon Sugar Hotteok
2014-11-21 21:54:02
Delicious Korean winter snack: Crispy and chewy pancakes stuffed with oozing cinnamon sugar. Take care not to burn your tongue!
Ingredients
175 g all purpose flour
130 glutinous rice flour
7 g yeast
1 tsp salt
1 tsp sugar
300 mL milk*, lukewarm
1 tsp vegetable oil** (+ extra for shaping and frying)
50 g brown sugar
1 tsp cinnamon
Instructions
In a bowl, shortly mix the flours, yeast, salt and sugar. Set aside.
In a small bowl, mix the sugar and cinnamon. Set aside.
Mix the milk and oil.
Add the oil mixture to the flour mixture and stir until a sticky dough is formed.
Prove the dough 1 hour or until doubled in size and punch the dough down.
Heat a skillet with oil on medium heat.
Rub your hands with a little bit of oil to keep the dough from sticking to your hands. Take a piece of dough and flatten it. Add 1-2 tsp of the sugar mixture in the middle and close the dough forming a ball.
Place the ball in the pan and let it fry for a minute. Then, flip the dough over and press it down with a hotteok press***. Fry the pancakes until both sides are golden brown.
Place the hotteok on a paper towel to absorb excess oil. Serve while hot.
Notes
*I used skim milk, but feel free to use half-and-half or full fat.
** Any flavorless vegetable oil will do. I used sunflower oil.
*** You could also use a bowl with flat bottom or a big spatula.
Writing Temptations http://www.writing-temptations.net/