A delicious creamy, chewy, sweet ánd refreshing coconut dessert with tapioca pearls and ice cold cubes of mango. Who needs an airplane to fly to the tropics, when each bite of this super easy dessert will take you there in an instant! Great as a gluten free and vegan alternative.
Hello beloved foodies 🙂 How is everyone doing? I'm actually doing quite well. As you might've noticed I've been quite busy doing other stuff than blogging. This week I'm entering the last three weeks of my time as a student (I'm expecting to pass this last course, anyway…). It's scary and exciting at the same time! But surprises are what makes life fun, right? Just like the heat-waves in between the rainy days over here. You never know what you get: one day it's like autumn and the other day we're surprised with 27ºC. I think my legs might've even gotten a bit of color 😉 But that's not today's subject though…
Nope, today's subject is the recipe for the dessert I used to beat some heat. No hot oven sweetness, but a light and refreshing 4 ingredient-dessert: Coconut Sago with Mango. I know what you're thinking: Another coconut dessert? But boy, this Asian recipe is fresh, chewy, slightly sweet, vegan ánd gluten free! You won't want to miss out on this one, trust me. To make this dessert, you will need:
Tapioca Pearls
Coconut milk
Cubes of mango (preferably slightly frozen)
Sugar
Not only will you love this dessert, because the list of ingredients is super short, but you will also love this one because it really is super easy to make! I'm even including microwave options for you.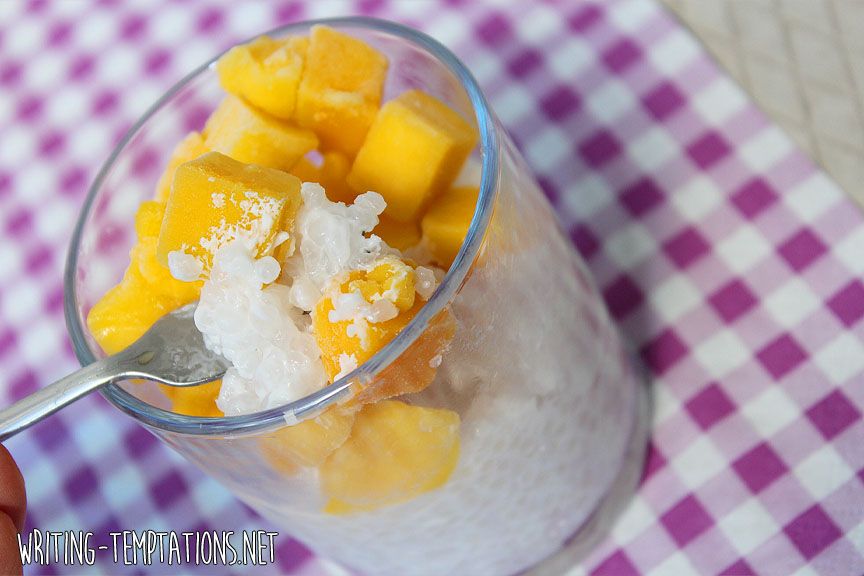 You will start this dessert by rinsing and soaking the tapioca pearls. Then, you will cook those babies in some (light) coconut milk. Use a saucepan or be extra-lazy and embrace the microwave in your kitchen! Once cooked, you will stir in some sugar. Finally, scoop your sago in a nice glass and top with delicious cubes of mango. I used slightly thawed mango cubes; it makes this dessert even more refreshing!
Coconut Sago with Mango
2014-06-09 20:36:12
Serves 6
Creamy and refreshing asian coconut dessert with chewy tapioca pearls and ice cold mango cubes.
Ingredients
200 mL tapioca pearls
400 mL (light) coconut milk
1-2 Tbsp granulated sugar
150 g mango, cubed
Instructions
Rinse the tapioca pearls in cold tap water.
Let the tapioca pearls soak in cold tap water for at least 1 hour.
Drain the tapioca pearls.
In a saucepan, bring the coconut milk to a bowl.*
Add the tapioca pearls to the coconut milk, stir and bring it back to a boil.
Cook the tapioca pearls on medium low heat until transparent with a small white core.
Add 1-2 tablespoons of sugar (to taste) and mix carefully.
Spoon the mixture in your serving glasses of choice.
Cover with cling-film and store in fridge for at least 1 hour.
Top the coconut sago with some mango and serve well-chilled.
Notes
*Microwave method: Mix the coconut milk and soaked tapioca pearls in a microwave-able bowl. Heat the mixture for 5-10 minutes on high heat, stirring every 3 minutes. Stop heating when the tapioca pearls are transparent with a small white core.
Writing Temptations http://www.writing-temptations.net/