Soft hazelnut butter cookies. Delicious buttery and amazingly melt-in-the-mouth crumbly. Topped with chopped hazelnuts for that extra crunch.
Fall is almost ready to step aside for winter. Although I'm not much of a cold-weather-lover, I'll definitely miss a couple of things that fit this beautiful red-and-orange colored season. A couple of these things are pumpkin spice and ginger cookies. Especially the latter one. I don't know where you guys stand, but I tend to be so much more into cookies during fall! It must be the feeling of enjoying a delicious fragrant cookie while cupping and sipping that giant cup of seering hot apple cinnamon tea. And so inspired by the store-bought hazelnut cookies we had at work, I decided to create my own hazelnut cookies. Simple hazelnut cookies. These are delicious and crumbly. It's a whole different kind of crumbly than these crumble cookies though, which are more meringue-like crumbly. No, these hazelnut cookies are buttery crumbly and have that amazing (hazel)nutty flavor. The best part? They're homemade cookies.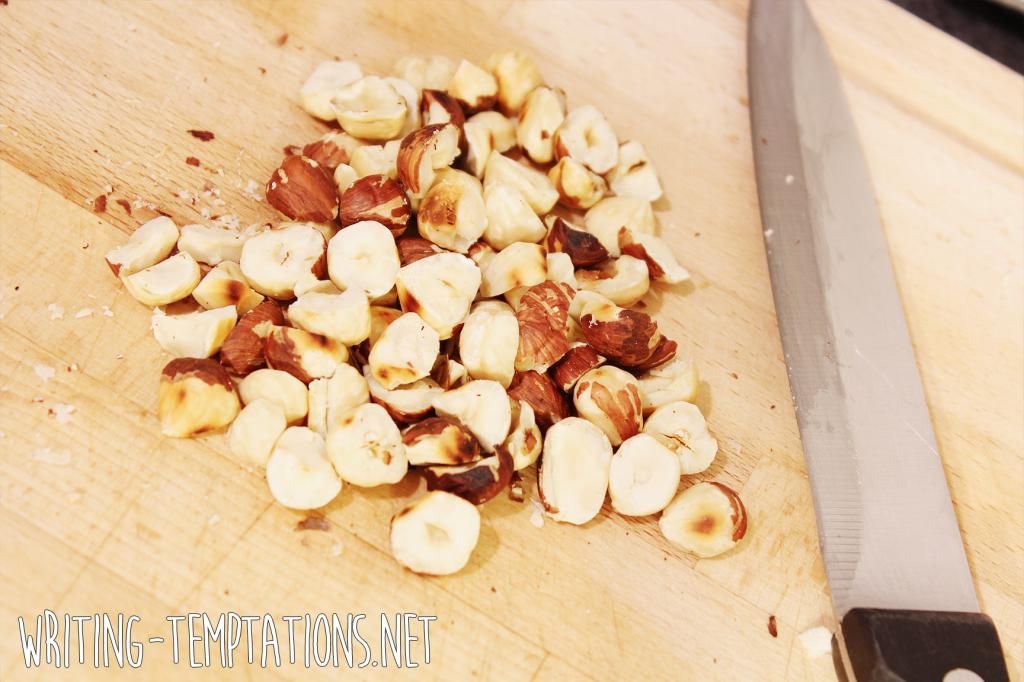 Now, as usual, these cookies are really easy to make. No really, I think these must be the easiest cookie-recipe I've written so far. You will need just a couple of simple ingredients. The most complicated ingredient being hazelnuts. Yes, it's that simple.
So let's start talking hazelnuts first. If you have unskinned hazelnuts, give yourself a round applause, because you just saved yourself some more time on this already super quick recipe. However, if you're stuck with hazelnuts au natural, don't freak out just yet because it's oh so easy to unskin them:
Toast the hazelnuts on medium-high heat (without oil)
Transfer the hazelnuts to a clean tea towel.
Close the tea towel by bringing the edges of the towel together.
Rub the hazelnuts in the tea towel. Repeat until most of the skin has come off.
Although this method doesn't peel your hazelnuts completely clean like the store-bought ones, these hazelnuts will work just as well if not better in this recipe. Additionally, I feel like the half-skinned hazelnuts give the cookies that rustic feel and finish the homemade look. Finally, throw your hazelnuts in a food processor and blend it to a fine meal. Don't worry if there are a couple of little chunks left.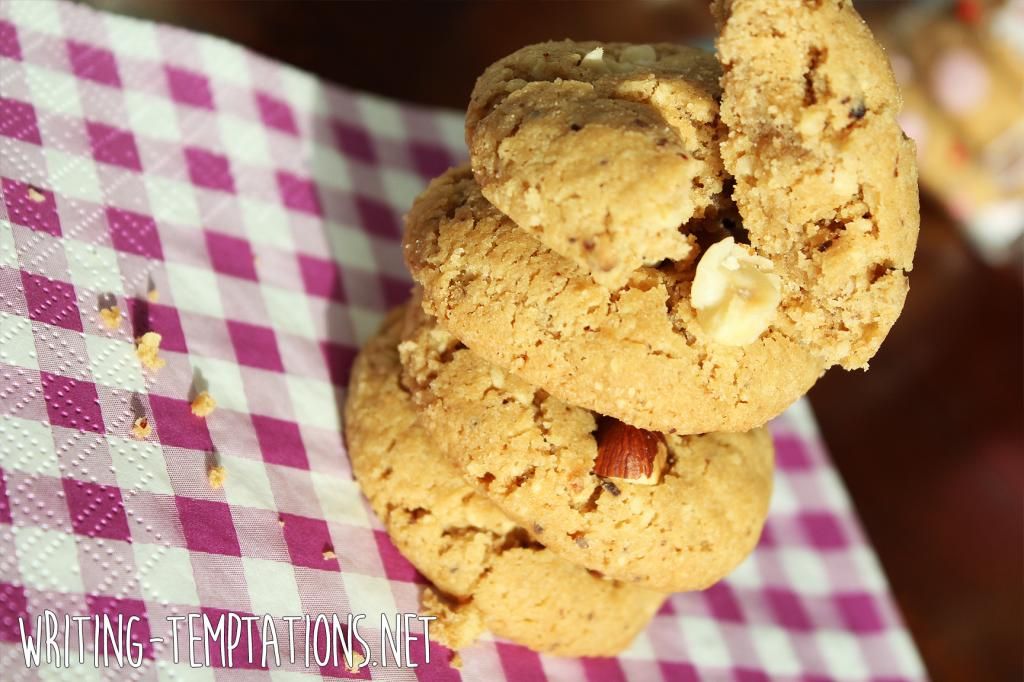 Once you've got yourself that delicious hazelnut meal al that's practically left is mixing the whole lot in a mixing bowl. Sure, you will start by creaming the butter and sugar, but after that you just throw in the rest of the ingredients and let the wooden spoon do the magic. Once you have your cookie dough (who's craving Ben and Jerry's with me?), the last step before baking is a 1 hour chill in the fridge. This is mandatory. Don't be lazy and skip it, because you'll end up with flat crumbly disks instead of thick crumbly cookies.
Bake the cookies at 180 C for about 15-20 minutes or until beautiful golden brown. Once you take them out the oven, quickly press in some chopped hazelnuts while the dough is still slightly soft (just to be fancy 😛 ). Let the cookies cool completely before diving in! And don't forget to set aside a couple of cookies for some sharing, because we all now the drill, right: Sharing is caring ♥
Crumbly Hazelnut Butter Cookies
2014-11-05 20:21:14
Super crumbly buttery hazelnut cookies. These cookies practically melt instantly in the mouth. Only a few ingredients and super easy to make. Best served with a glass of cold milk or hot tea. Take your pick.
Ingredients
110 g skinless hazelnuts*, toasted and ground
210 g all purpose flour
¼ tsp salt
215 g unsalted butter, room temperature
100 g brown sugar
80 g granulated sugar
½ tsp vanilla extract
80 g hazelnuts, chopped (optional)
Instructions
In a bowl, mix the hazelnuts, flour and salt. Set aside.
In a large mixing bowl, cream the butter and sugar until light and fluffy.
Add the vanilla extract and flour mixture. Mix until completely combined.
Roll dough balls the size of approximately 1½ tablespoon.
Chill dough at least 1 hour in the fridge.
Preheat the oven to 180 C.
Bake the cookies 15-20 minutes at 180 C or until golden brown.
While the cookies are still soft, press a few chopped hazelnuts firmly on top.
Leave the cookies 5-10 minutes alone. Then, transfer to a cooling rack and let them cool completely.
Notes
*See above on how to remove skin from hazelnuts.
Writing Temptations http://www.writing-temptations.net/