Easy fragrant and creamy curry chicken bread rolls for lunch! Mixed with crunchy bits of cornichons and topped with heaps of fried onions.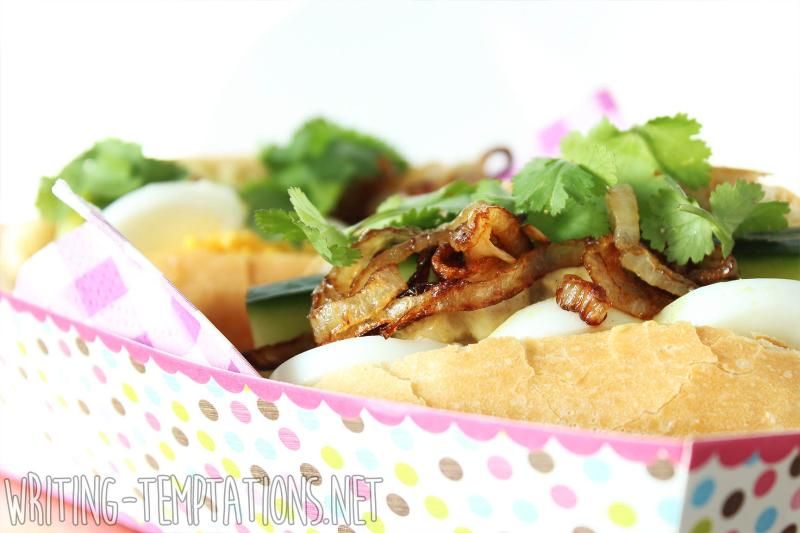 On my days off from work, my bf is usually away from 9-5. It's the perfect opportunity for me to enjoy some me-time and spoil myself a bit. Lunch-wise anyway, because I love having homemade lunch. Spending some extra time on a special sandwich for lunch is a real treat. So whenever I have the time, I dream about a new lunch-idea and execute it on my day off. Life doesn't get more perfect 😉 Today, I'll be sharing one of my latest homemade lunch.
A while ago, I had a curry sandwich at a restaurant. It was a good sandwich, but I felt like it was missing a few things. So I let myself be inspired and went into my kitchen to do some experiments on my own version. And boy, did I enjoy this one! Fragrant, creamy, tangy, crunchy curry chicken lunch rolls… Yum~~~ All those things in one sandwich! [Leftovers were happily gobbled up by my bf hehe… ;)] Also, did I mention it's super easy and very quick to make? You can even prepare everything in advance and assemble when your guest(s) arrive.
To make the sandwich, I cut a piece of chicken breast into small cubes and added some soy sauce and curry powder. I cut cubes of approximately 0,5 cm x 0,5 cm. Yes, that small. Feel free to go for bigger cubes, but keep in mind it will take a bit more time to cook. These cubes took only a couple of minutes. As for the curry powder, I used store-bought "Curry Masala", which is slightly spicy. If you're not into spicy or if you're into MORE spice, use your favorite curry spice blend. I used the same spice blend for the sauce, which is just a mixture of yoghurt-mayonaise, curry powder and pepper. Once you've got your chicken and sauce ready, all you need is:
boiled egg
cucumber
fried onions
cilantro
Assemble the lot and you've got yourself a delicious homemade sandwich!
Curry Chicken Lunch Rolls
2015-02-22 21:17:22
Serves 2
Easy fragrant and creamy curry chicken bread rolls for lunch! Mixed with crunchy bits of cornichons and topped with heaps of fried onions.
Ingredients
1 chicken breast, cut into small cubes
1 Tbsp soy sauce
4 tsp curry powder
pepper, to taste
2 Tbsp cooking oil
2 Tbsp (yoghurt)mayonaise
40 g cornichons, cubed
1 large onion, cut in rings
4 bread rolls
2 boiled eggs, sliced
3-4 cm cucumber, cut into 8 in length
handful cilantro, washed and drained
Instructions
Heat 1 tablespoon of oil in a skillet on medium-high heat. Fry the onion rings until golden brown. Set aside.
Mix the chicken breast with soy sauce, 2 teaspoons of curry powder and a few dashes of pepper.
Heat the remaining oil on medium heat. Cook the chicken until golden brown and fully cooked through. Remove from heat.
Mix the chicken with the mayonaise, remaining curry powder, cornichons and a few dashes of pepper. Set aside.
Cut the bread rolls open and assemble the sandwich with the chicken, eggs, cucumber, cilantro and fried onions.
Writing Temptations http://www.writing-temptations.net/
Try this
cilantro lime chicken sandwich
and
deluxe grilled cheese sandwich
too!
What's your favorite sandwich? Share your recipe with me!