Flaky, buttery pie stuffed with apples and topped with crunchy crumbles. Finished with drizzles of salted caramel. It's gluten free too!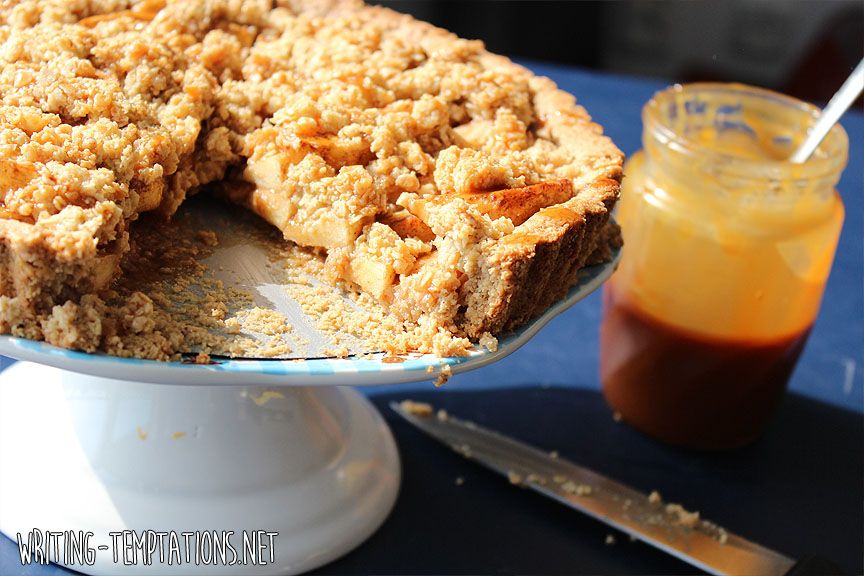 Today's recipe was created due to four apples which were destined to stay uneaten unless baked. Additionally, I didn't want to create a standard apple pie (there are so many recipes for apple pies already), so I decided to give myself a challenge: Gluten free. To make this pie gluten free, I substituted the flour for oats. Oats aren't just gluten free (make sure it says so on the packaging), but they're cholesterol-lowering and full of fibers too. Super healthy, right? Anyway, if you're anything like me, you'll love this recipe because (1) you don't have to keep the ingredients ice cold (2) the pie crust is super crumbly and (3) it's drizzled with salted caramel.
Although oats are very healthy, I won't fool you by calling this recipe healthy. There's still butter and sugar involved. But hey, we can't have it all right? By the way, the pie does contain a whole lot more fibers than your average apple pie. Let's just call it a healthyfied apple pie 😉
Now, because the pie crust has no flour, it is crumbly, very crumbly. It will hold it's shape as a pie, but once you dig in, the crumbles will tumble in your mouth. Some might like it, some may not. Personally, I'm a huge fan of crumbly 😀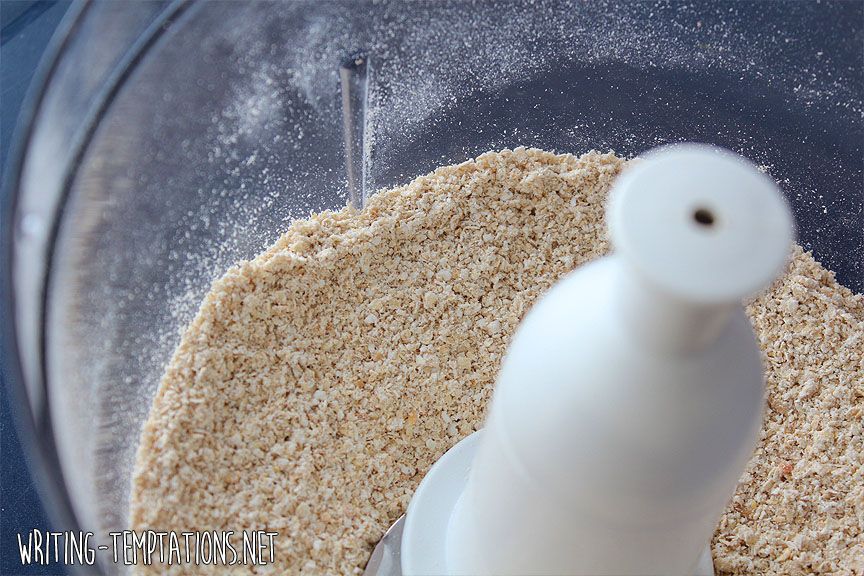 For the crust, you will need just a few ingredients: oats, butter, sugar, cashew nuts (optional), cinnamon (optional) and salt. Yes, cashews. I love the nutty flavor it adds to the crust. It's a must try, trust me! To keep it easy, you're going to blitz the oats and cashews in your food processor to a fine powder. Then, you will switch to your dough blade, dunk the oatmeal mix and other ingredients in and switch on the processor. Let it work the dough anddd you're done! I'm not kidding. Oh, and did I mention your butter does not have to be ice cold? Actually, a little softened butter could make the incorporation of your butter and oats even easier! If right, you won't even have to chill your dough: Process, put it in your pie plate and press the dough to an even layer in your plate. It's as easy as that.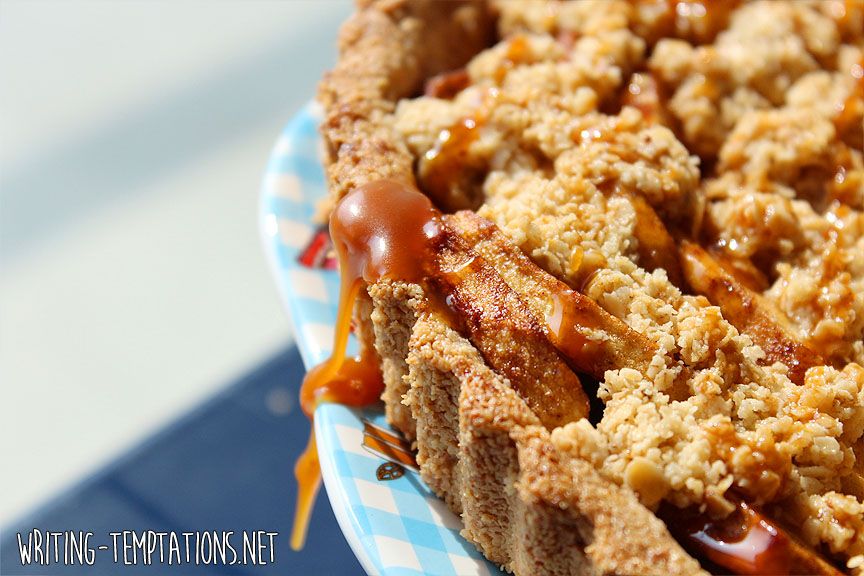 To prepare the filling, slice the apples and mix it with brown sugar, cinnamon and a little bit of cornstarch. The brown sugar will give you a nice molassy flavor, while the cornstarch helps to thicken the juices of the apples. It will keep your crust from getting soggy. Give the apples a good mix and distribute evenly in your pie shell. Finally, top the pie with a nice crumble mixture (oats, butter and sugar) and pop it into the oven. Bake your pie for 25-30 minutes at 180°C, let it cool completely, drizzle some good salted caramel on top aandd… you're set! Enjoy my dears.♥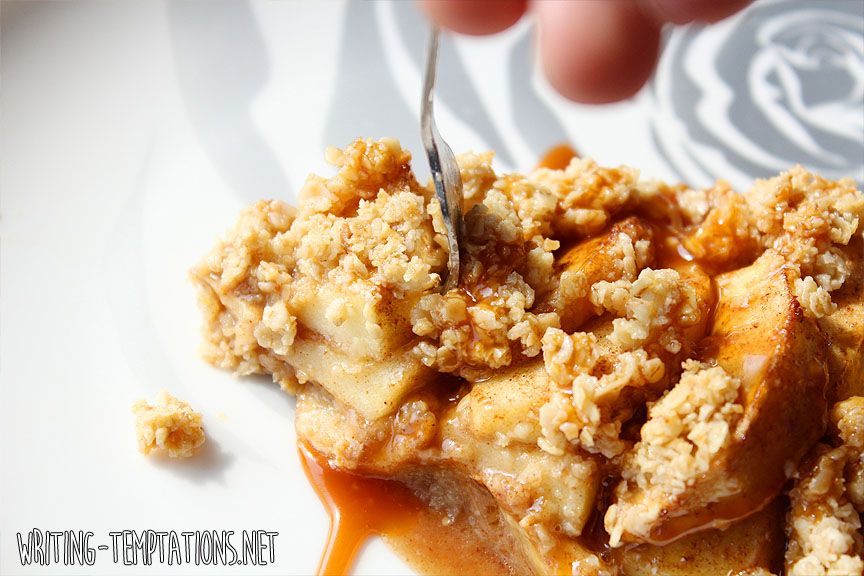 Love,
My Linh
What dish would you like to turn gluten-free?
Gluten Free Salted Caramel Apple Pie
2014-04-03 22:15:56
Serves 8
Super crumbly gluten free apple crumble pie topped with a good amount of salted caramel sauce! This pie is packed with fibers.
Ingredients for the crust
170 gram oats
75 gram cashew nuts
100 gram butter
¼ teaspoon salt
Ingredients for the filling
4 medium apples, sliced
60 gram brown sugar
2 teaspoons cinnamon
Ingredients for the crumble
170 gram oats
100 gram butter, cold
salted caramel sauce for topping
Instructions
Preheat the oven to 180°C and spray your pie plate with baking spray (or use butter).
Pulse the oats (for the crust) and cashews to a fine meal.
Using a food processor with dough blade, combine all the other ingredients for the crust with the fine meal. Pulse until the ingredients form a (crumbly) ball.
Transfer the crust to the pie plate. Press the dough evenly into the plate.
Mix the ingredients for the filling in a big bowl.
Distribute the filling evenly in the pie crust.
Cut the butter in the oats and distribute over the pie.
Bake the pie 25-30 minutes at 180°C or until golden brown.
Let the pie cool completely before removing from pie plate and drizzling caramel sauce.*
Notes
*The crust has to cool down to hold its shape.
Writing Temptations http://www.writing-temptations.net/