Amazing oatmeal pancakes stuffed with protein. Only 5 ingredients! A great healthy alternative to regular pancakes.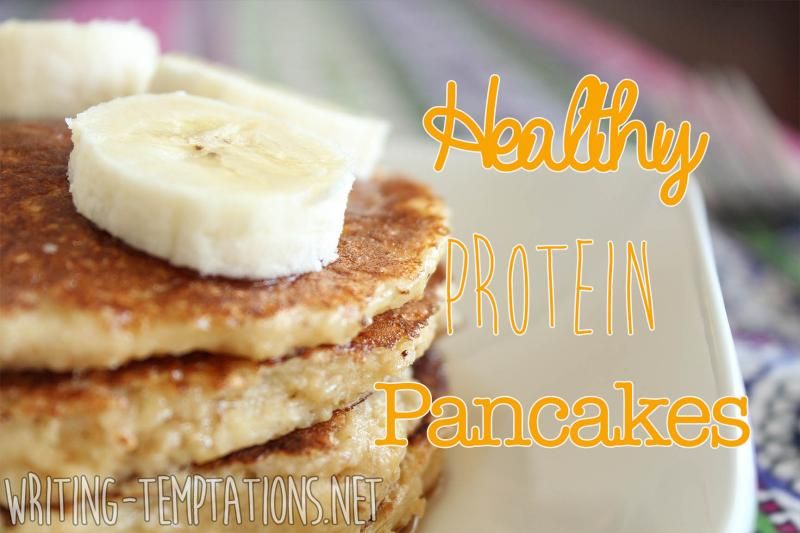 As I finished my day at work around 5.30 PM, I was dreaming about delicious breakfast on my Sunday morning. However, after my recent kitchen-escapades (Red Velvet Cupcakes for Two, Cod Fish Burgers, How To Make Whipped Cream and Creamy Onion Gratin), I thought it was good idea to opt for something healthy this time. Healthy, but still yummy of course 😉 And so I decided to make healthy pancakes. Not the egg-and-banana kind, because those make me feel rather sick. (Anyone with me?) No, I decided to make protein pancakes. Healthy protein pancakes. It's super easy, takes only a handful of ingredients and costs you just a few minutes to make! Great way to start a day, if you ask me 😉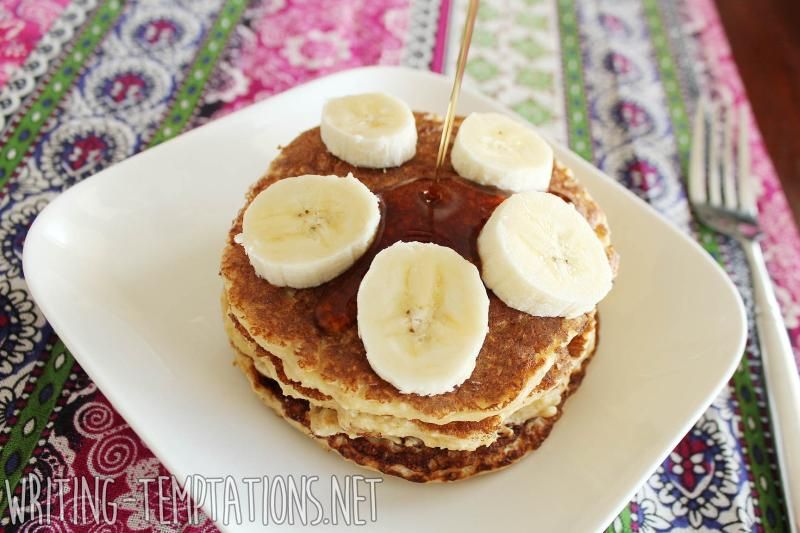 So like I said, this recipe takes just a handful of ingredients. You'll need:
Egg whites
Rolled Oats
Quark (Farmer's Cheese)
Baking Soda
Vanilla Extract
For the egg whites, you can use boxed egg whites (32 mL ~ 1 egg white) or separate it from fresh eggs. If you don't want to waste the yolks, you can substitute the 3 egg whites with 1 whole egg. Keep in mind this will lower the protein content and increase fat-content. To form everything into a batter, you'll be using rolled oats (or oat flour). Therefor, these pancakes can be gluten free! Although oats are naturally gluten free, make sure you get a brand that's certified gluten free, because sometimes oats are "contaminated" with gluten during processing. I'd recommend to check if all your ingredients are certified gluten free if you really can't eat gluten at all.
To make the batter, all you have to do is mix the whole lot together. It won't even take 2 minutes. Promise. Once everything is mixed evenly, you'll have a thick pancake batter.Taking a spoonful of batter, drop it on a preheated non-stick pan. You'll have to use the back of the spoon to spread the batter out to a pancake, because this batter is not as fluid as regular pancake batter. Bake the pancakes on both sides until golden brown and you're ready to serve. For extra deliciousness, add fresh fruit and a drizzle of your favorite sweetner. I used slices of banana and maple syrup, but use anyting that fits your diet.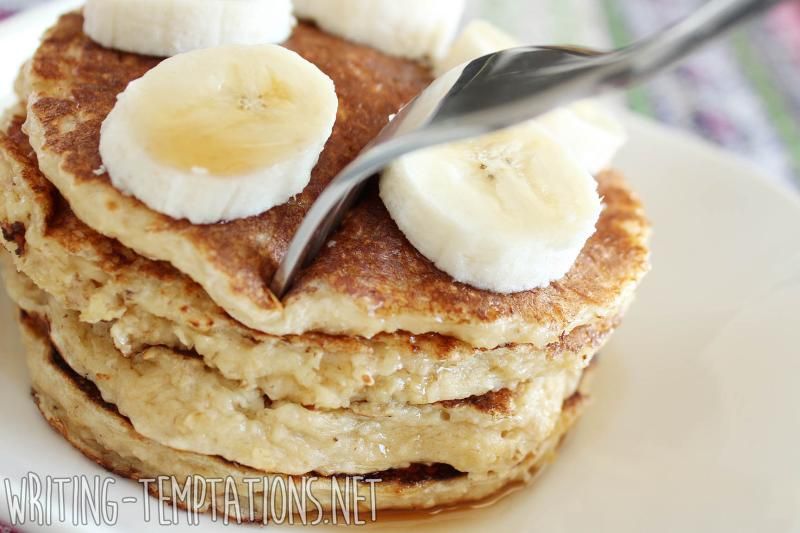 Try these lactose free pumpkin pancakes too. A little less healthy than today's protein pancakes, but packed with flavor 😉
Love,
My Linh
Healthy Protein Pancakes
2015-02-24 22:42:42
Amazing oatmeal pancakes stuffed with protein. A great healthy alternative to regular pancakes. These delicious pancake fill you up like crazy.
Ingredients
50 g rolled oats
3 egg whites*
120 g quark/farmer's cheese
1/8 tsp baking powder
1 tsp vanilla extract
Instructions
In a food processor, pulse the oats to a fine meal.
Add baking powder and roughly mix using a spoon. Set aside.
In a bowl, mix the egg whites, quark and vanilla extract.
Add the oat-mixture and mix to a thick batter.
Heat a non-stick pan on medium heat.
Drop a big spoon of batter in the pan. Use the back of the spoon to spread the batter out to a round pancake (~2-3mm thick).
Cook the pancake until golden brown. Then, flip the pancake and cook for another 50-60 seconds or until that side is golden brown.
Repeat previous 2 steps for remaining batter.
Serve with fresh fruit and desired sweetener.
Notes
*Or 1 egg, but it will decrease protein-content
Writing Temptations http://www.writing-temptations.net/
Do you have alternatives for "unhealthy" meals? Share in the comment-section below! ^^