Thick and fluffy pancakes stuffed with fresh pumpkin puree. Fragrant from the pumpkin and lactose free. Perfect as an easy breakfast treat.
A while back I got this amazing pumpkin from my colleague's garden, which I turned into bagss of frozen pumpkin puree to have on stock. When I posted this picture on facebook with the question what I should cook/bake with it, one of my friends answered "Pumpkin Pancakes!". As I never had pumpkin pancakes before, I decided to turn my go-to American pancake recipe into a Pumpkin Pancake-recipe and give it a try. Boy, were these scrumptious! I had no problem devouring a couple of these pancakes, because the recipe was lactose free. Yes, you can eat it too! 😀 It's very simple: Instead of milk, we'll use coconut milk. Don't worry, the coconut won't overpower. I promise. Actually, you'll barely taste it! To be honest, I made this recipe lactose free by accident. I actually wanted the pancakes to taste slightly like coconut, but the pumpkin puree and spices completely masked the coconut. Boohooh. I could've cried over it, but instead I decided to turn bad luck into serendipity: A lactose-free recipe was born! Hehehe… So if you're not into coconut and are lactose intolerant, you'll have no problem using this recipe.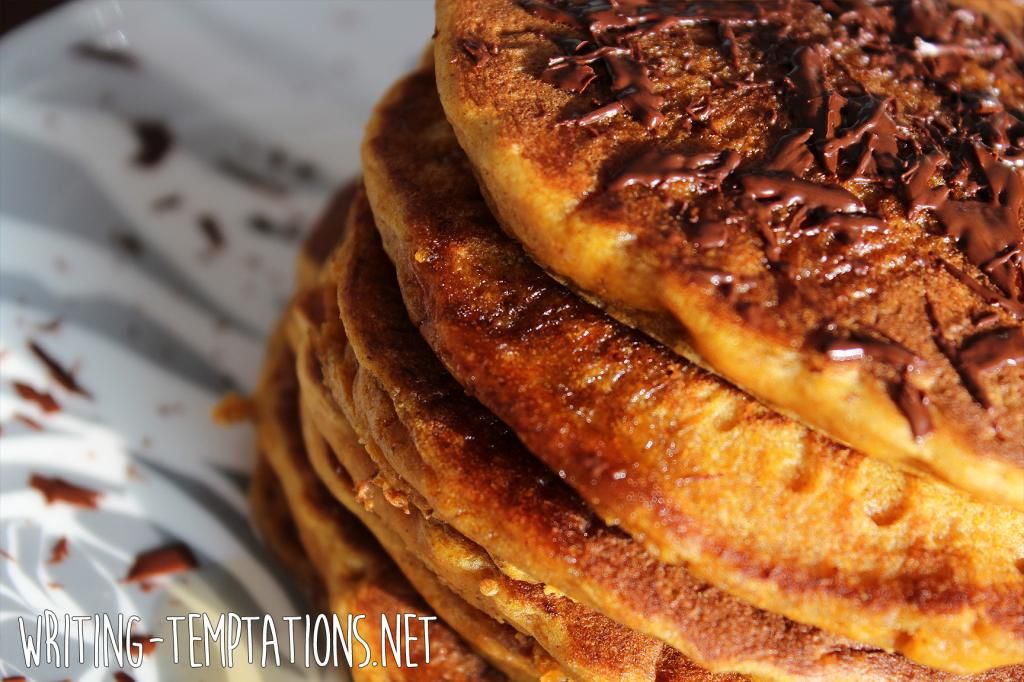 Now go ahead and surprise you loved ones with these heavenly light and fluffy, thick pumpkin and spice pancakes! They won't even know how easy it was for you to make them 😉 Oh and don't forget to give instructions on drowning these in maple-syrup and on adding a load of dark chocolate curls, okay? You do want it to be a treat right? 😉
Look at that maple syrup! ♥_♥
(Lactose Free) Pumpkin Pancakes
2014-11-07 19:58:15
Thick and fluffy american pancakes that taste like pumpkin heaven. These unbelievably soft pancakes are filled with pumpkin puree and contain a delicious blend of spices. Serve with maple syrup and heaps of dark chocolate curls. The ultimate fall treat. Lactose free.
Ingredients
400 mL coconut milk
300 g pumpkin puree
1 egg
2 Tbsp vegetable oil
2 Tbsp vinegar
260 g all purpose flour
2 Tbsp brown sugar
2 tsp baking powder
1 tsp baking soda
2 tsp cinnamon
1 tsp ginger
¼ tsp nutmeg
¼ tsp salt
butter or oil for baking
maple syrup
dark chocolate curls (optional)
Instructions
In a bowl, mix the flour, baking powder, baking soda, spices and salt. Set aside.
In a large mixing bowl, mix egg, brown sugar, pumpkin puree, coconut milk, oil and vinegar.
Add the flour mixture and mix until just combined. Make sure you don't overmix. It's okay if the batter is slightly lumpy.
Heat a little bit of butter or oil in a non-stick skillet on medium heat.
Drop some batter in the skillet and bake until the surface starts to bubble. Flip the pancake over and bake for another 2-4 minutes or until fully cooked through.
Serve with maple syrup and chocolate curls.
Writing Temptations http://www.writing-temptations.net/