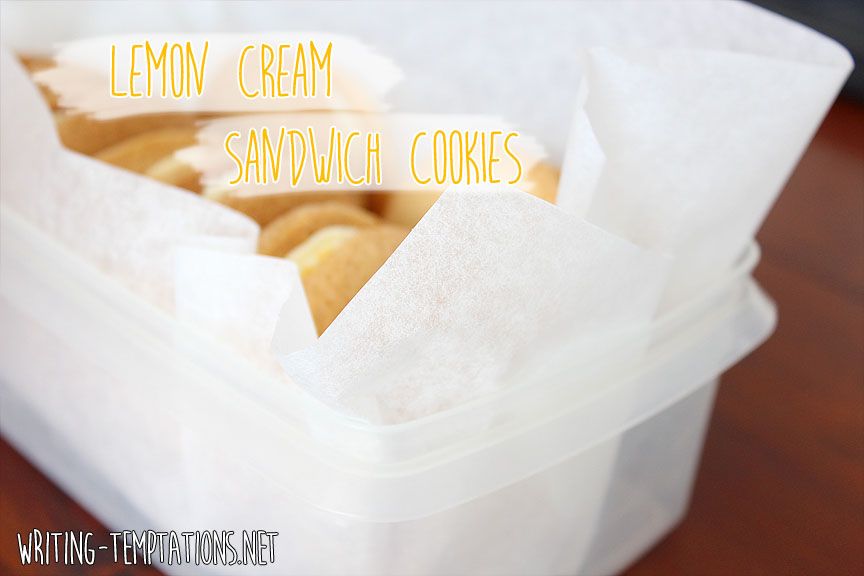 Lemon must be one of my favorite dessert flavors. How about you guys? I love the tangyness in contrast to the sweetness. And during the summer, ice cold lemon beverages, which are actually loaded with sugar, are my guilty pleasure. Unfortunately, the weather in The Netherlands has not allowed me to feel summery just yet. So instead of making lemon beverages for my housewarming-guests, I decided to serve some crumbly lemon cream vanilla sandwich cookies next to the silky soft vegetarian cheese omelette and spinach wraps. You will love this cookie recipe and I will tell you exactly why.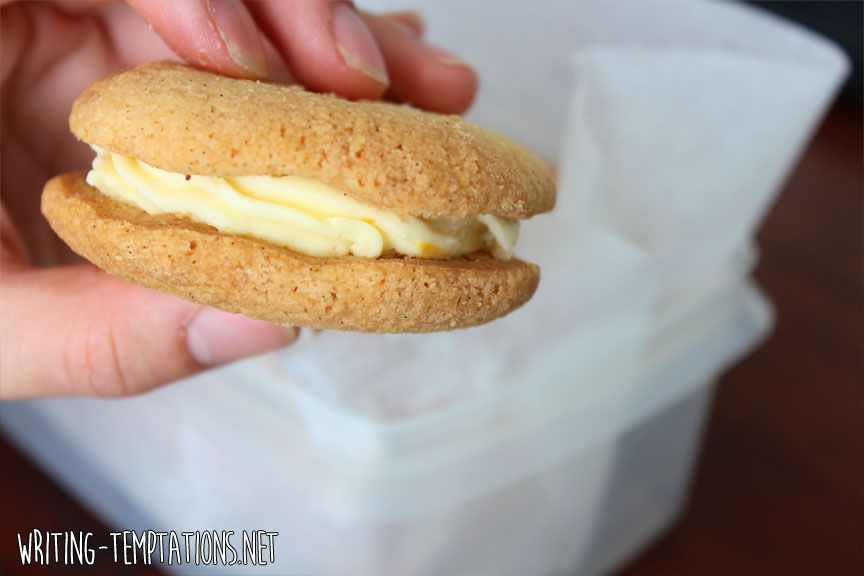 Let us start with the cookies. You will try these cookies, because 1)it's super easy, 2) your house will smell like a bakery and 3) the cookies look like a pro. Your guests will wonder if you got these at a bakery. (Although, you might not even want to share these after you've had one…). There are just a few ingredients and side notes to maing these buttery, oh-so-crumbly cookies:
Unsalted butter
Molasses sugar (or brown sugar)
Flour and baking soda (or selfrising flour)
Vanilla extract (optional: vanilla bean)
Salt
Make sure your butter is at room temperature to be able to cream the butter and sugar properly. The molasses sugar is basically "white brown sugar". I wanted white cookies to compliment the lemon so I went for a form of white-sugar. However, feel free to substitute with brown sugar. I'm sure it's more likely to be in your pantry than molasses sugar anyway 😉 As for the vanilla bean: It makes the cookies that much more vanilla-y than just the vanilla extract. I'm a huge fan of vanilla beans (plus, I had one on hand). Therefore, for me, the vanilla bean could not be left out. However, if you feel like you won't miss it (or are simply too lazy to get one), leave it out. You will love the cookies just as much. I'm sure.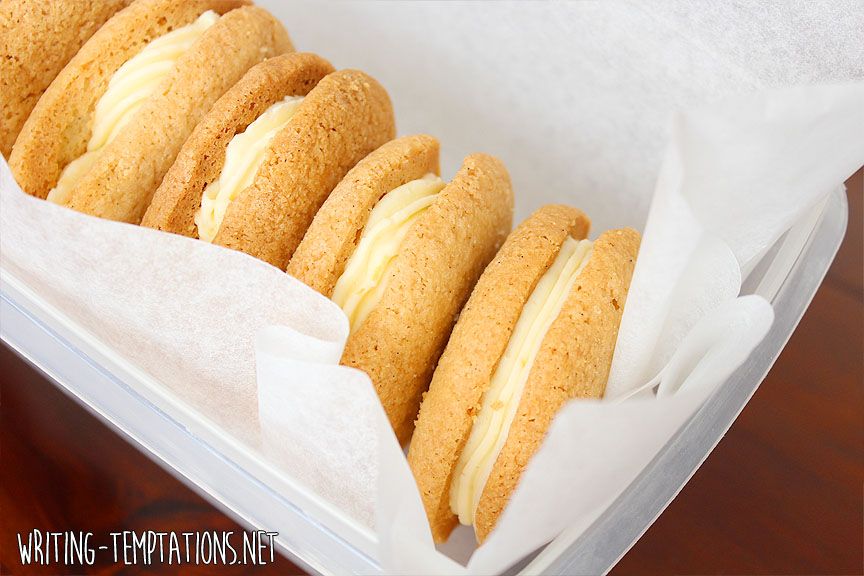 Moving on to the lemon cream: I'm a huge believer of making homemade cookie-cream, because it's very simple and you can adjust the ingredients (and thus the flavor) to whatever you like. I don't know about you guys, but store-bought cream is usually way too sweet, too creamy or simply bland. (And definitely over-priced too, by the way!) As for this lemon cream, you will need some butter, sugar, a large lemon and a pinch of salt. That.is.it. Start by incorporating the sugar in the butter. Do this slowly to prevent a grainy texture; you'll want this cream to be nice and smooth. Then, add the lemon zest, lemon juice and just a pinch of salt. Adjust the amount of lemon to your liking. As for me, I wanted the cream to scream LEMON so I added the juice of a whole lemon. Delicious. Finally, mix it all up to a fluffy cream, pipe it (at room temperature) on your cookies and your sandwich cookies are done! It's as simple as that. This is the good life, you guys: simple and easy. Make these, have one and let it crumble and melt in your mouth. Oooh so soft… You won't regret it.
What cookie flavor do you like best? Plain chocolate? Or do you have other (extravagant) ideas?
Love,
My Linh
Lemon cream vanilla sandwich cookies
2014-03-23 23:38:57
Lemon cream vanilla sandwich cookies made with crumbly, buttery and very fragrant vanilla cookies filled with a thick layer of creamy, tangy lemon filling.
Ingredients for the cookies
225 gram unsalted butter, cubed and at room temperature
100 gram white molasses sugar
250 gram flour
1 teaspoon baking soda
1 teaspoon vanilla extract
seeds of 1 vanilla bean (optional)
¼ teaspoon salt
Ingredients for the lemon cream
100 gram unsalted butter, cubed and at room temperature
110 gram confectioner's sugar
70 mL lemon juice
zest of 1 lemon (optional)
¼ teaspoon salt
For the cookies
Preheat the oven to 160°C.
In a large bowl, cream the sugar and butter.
Add the seeds of the vanilla bean and the vanilla extract. Mix until evenly distributed. Set aside.
In another bowl, mix the flour, baking soda and salt.
Add the flour mixture in three batches to the butter mixture. Mix until evenly distributed.
Roll balls of approximately 25 gram (large cookies) or 15 gram (small cookies) cookie dough and flatten the balls slightly. Place for about 30 minutes in the fridge.
Bake the cookies 22-25 minutes at 160°C or until golden brown.
Let the cookies cool completely before filling.
For the lemon cream
Slowly add the confectioner's sugar to the butter while mixing. Mix it to a fluffy mixture.
Add the lemon juice, lemon zest and salt. Mix until evenly distributed.
To assemble the sandwich cookies
Pipe some room temperature lemon cream on the back of a cookie.
Place another cookie on top with the back against the cream.
Notes
Store the sandwich cookies in an airtight container.
Writing Temptations http://www.writing-temptations.net/