Amazing smooth and creamy pumpkin soup without the cream! Rich in flavor and really healthy. Perfect for cold winter days.
May I introduce to you: My silky smooth pumpkin soup. A soup that's creamy without the cream and sweet without the added sugar. Today's recipe is healthy AND delicious. What more could we ask for? And unlike most people think, pumpkin soup is super easy to make. In fact, it might be the easiest soup I know. It doesn't take a whole lot of time and you'll just need a few ingredients. After you've tried this soup, you'll make it your go-to recipe.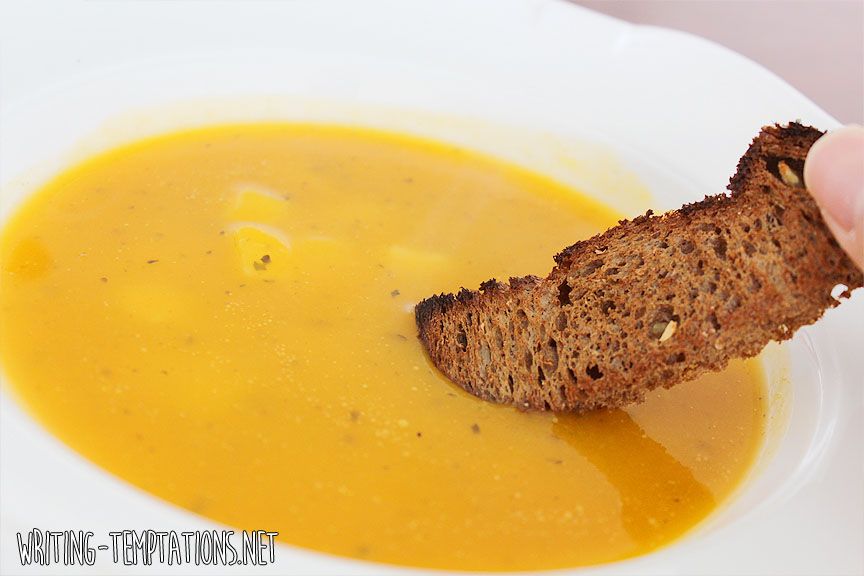 The basics of this soup are simply pumpkin and stock. Pumpkin lifts the vegetable stock by adding flavor and natural sweetness. For this recipe, I used vegetable stock, but you could try any other kind of stock you'd like. Just play with it. As is, these two ingredients form a perfect simple pumpkin soup. However, there are a couple of things you need to add to turn the simple pumpkin soup into exciting and flavorful:
Potatoes
Basil
Chili powder
Lemon juice
You will add the potatoes to release it's starch into the soup, which makes it creamy without having to add cream. It's a tip you could use for any soup. Additionally, the potatoes add some bite to break the silky smooth texture. Then, you will add the basil which creates some extra flavor. I used dried basil, but fresh basil would definitely be better. (That is, if you're lucky enough to have it on hand.) Then there's the chili powder, which you carefully tip into the pot using a teaspoon, taking care not to over-do it; you want it to give a light heat kick to keep your palate awake, not to kick you full in the face. Last, you will add lemon juice to create that extra zing and add another dimension to the soup. Yum.
Once you're done, serve the piping hot smooth pumpkin soup with some crunchy-ness/breadsticks. You could get these store-bought or make some yourself. If you'd like to keep this recipe healthy, just slice some whole wheat bread into sticks and pop them in the oven for a couple of minutes. Serve your soup with breadsticks in a fancy style and your guests will be blown away.
Love,
My Linh
Silky Smooth Pumpkin Soup
2015-06-21 17:26:19
Serves 4
Amazing smooth and creamy pumpkin soup without the cream! Rich in flavor and really healthy. Perfect for cold winter days.
Ingredients
½ butternut squash, cubed
3 medium potatoes, cubed
1 L vegetable stock
1 Tbsp lemon juice
1 Tbsp (dried) basil
¼-½ tsp chili powder
Instructions
Cook the pumpkin cubes in the vegetable stock until soft.
Using a stickblender, blend the mixture until smooth.
Add the potatoes, lemon juice, basil and chili powder. Stir.
Let the soup come to a simmer and let it cook until the potatoes are fully cooked through.
Give the soup a quick stir and serve with (homemade) breadsticks.
Writing Temptations http://www.writing-temptations.net/