Spicy and creamy chicken bites in a crunchy tortilla cup topped with delicious melty cheese. Bite-size for easy eating: Best party food ever.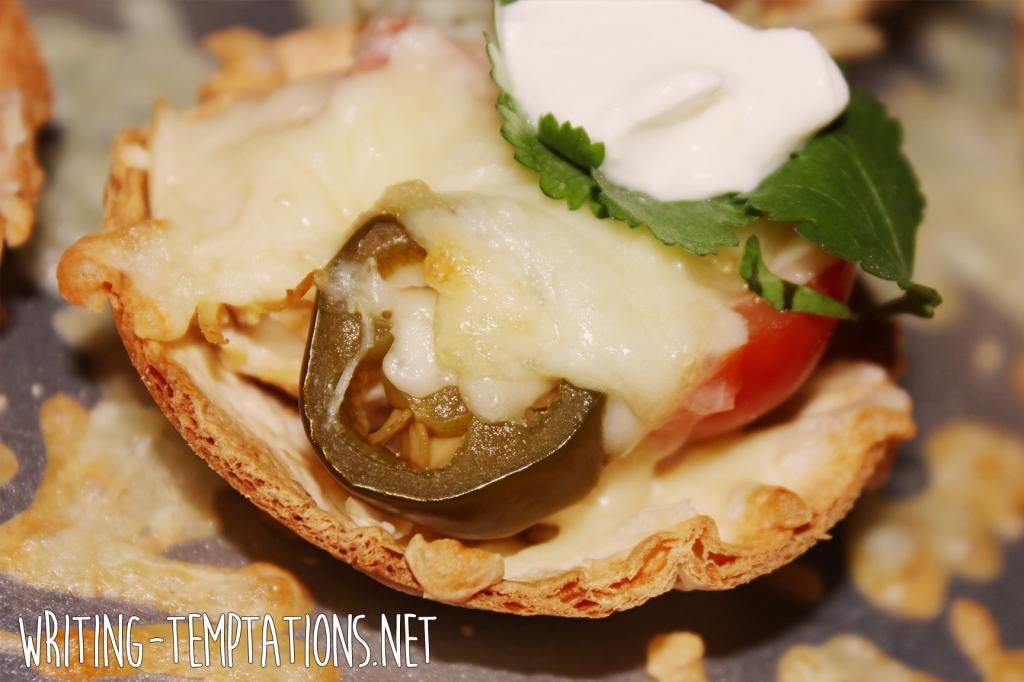 A couple of weeks ago, it was my boyfriend's birthday. As part of his birthday present, I made *surprise, surprise*: food. Because I wanted to make all kinds of dishes, I decided to make everything mini,bite-size. Mini food is so much easier to eat, less messy to eat and it's super cute too :3 (Okay, I might be a little obsessed with mini-food…) Anyway, I ended up making a whole lot of mini-food including these spicy chicken tortilla bites, which were so.good. Seriously, I doubled the batch to make appetizers for a small get-together and 24 of these babies disappeared within seconds! They were asking for more! Best part? It's oh-so-easy and quick to make.
So to make the tortilla cups, you just need some regular sized flour tortillas and a big round cookie cutter. Cut out smaller circles from the tortillas and press these lightly into a muffin pan to create a small cup. Then, you will back these for just a couple of minutes in the oven and your tortilla cups are ready for filling! You could use these for any filling you'd like, but this spicy chicken filling is really divine ♥
To make the filling, you will grill some (flattened) chicken breast until completely cooked through. Then, you will shred the chicken into little shreds [Using two forks is the quickest and easiest way,] and mix it with some chilli powder, pepper and salt. Now, the amount of chilli is completely up to you, but we'd liked it a bit fire-like 😉 Then, you will fill the tortilla cups with 1-2 teaspoons of chicken filling, quartered cherry tomatoes, jalapenos (one or two or three.. 😛 ) and you will top it with lots of cheese. We love lots of melted cheese, right? Pop your bites in the oven and let the cheese get to melting in a couple of minutes. Once the cheese is just the way you like it, you will take it out of the over, drop small dollops of sour cream on top and finish with some cilantro.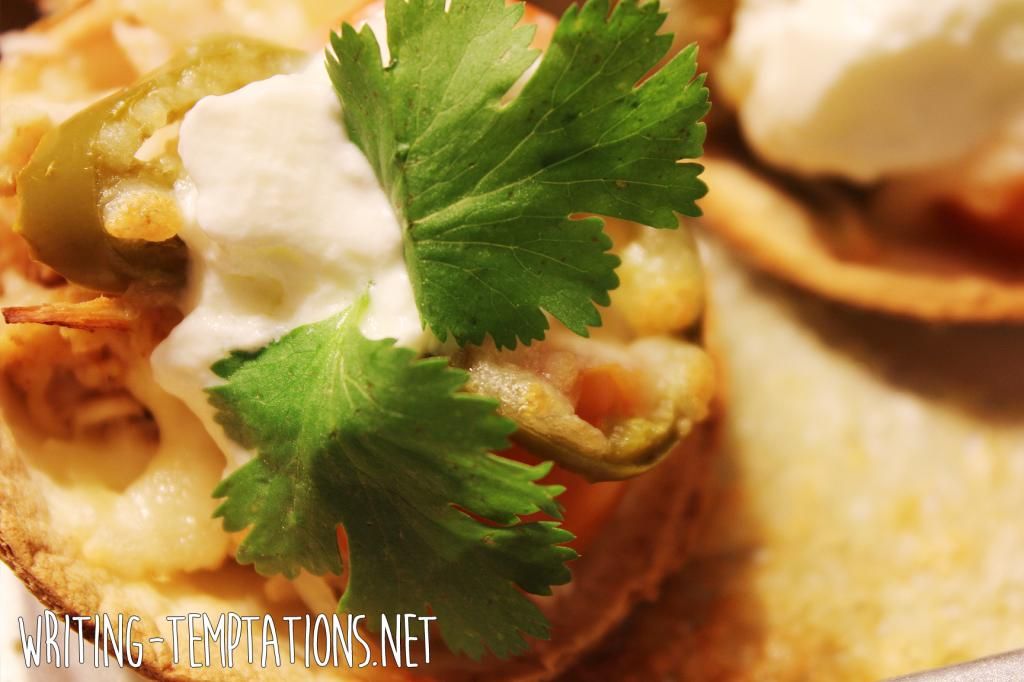 Serve these bites straight away and watch them vanish in seconds. If you're not a fan of spicy make these the way you prefer by adjusting the amount of chilli pepper and jalapenos per bite. However, I must say the jalapenos are the punch that makes these bites wow-zers (who knows which cartoon "wowzers" is from?) ! 😀
Spicy Chicken Tortilla Bites
2014-10-17 21:54:53
Serves 12
Creamy and spicy chicken bites in a crunchy tortilla cup. No mess, just food. These delicious bite-size tortillas get their punch from the jalapenos, which are well balanced by the sour cream. Perfect party food.
Ingredients
3 flour tortillas
2 chicken breasts, flattened
1-3 tsp chilli powder
pepper and salt
6 cherry tomatoes, quartered
12-24 pcs jalapeno slices
100 g grated cheese*
60 g sour cream
cilantro (optional)
Instructions
1. Preheat the oven to 220 C.
2. Cut 4 circles out of each flour tortilla (12 in total).
3. Press the circles lightly into a muffin tin. Press until you get the desired cup-shape.
4. Bake the tortilla cups 3-5 minutes at 220 C or until lightly golden brown.
5. Take the tortilla cups out of the oven and set aside. Turn the oven down to 200 C.
6. Grill the chicken breasts until completely cooked through.
7. Shred the chicken breasts using two forks.
8. Season the shredded chicken with chilli powder, pepper and salt.
9. Distribute the chicken over the tortilla cups.
10. Add the tomatoes and jalapenos on top of the shredded chicken.
11. Top the tortilla bites with grated cheese.
12. Bake the tortilla bites 4-8 minutes at 200 C or until the cheese is completely melted.
13.Take the tortilla bites out of the oven.
14. Top the bites off with sour cream and cilantro. Serve immediately.
Notes
* Use a mix that's made for melting.
Writing Temptations http://www.writing-temptations.net/