These adorable and fun strawberry coffee cupcakes will bring your high tea to a whole other level! Soft coffee flavored cupcakes topped with a super creamy and fruity strawberry buttercream. No artificial flavorings.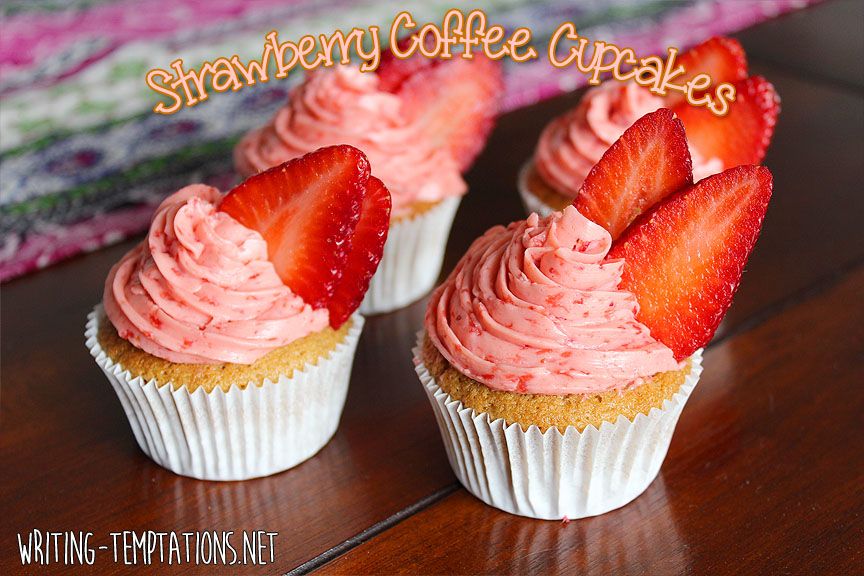 , Happy Easter, everyone! Have you all enjoyed your Sunday off and had some brunch with the family? As for me, I don't celebrate Easter. However, I never say no to an extra day off and an extra excuse to bake more goodies. So I spent my day eating Easter bread, playing games with my family and being adventurous in the kitchen. I tested a batch of steamed buns, which semi-failed, and managed to create a new delicious recipe with cranberries and semi-sweet chocolate chips. (Virtual cookie for whoever guesses the recipe.) It has been an amazing, blessed and long day. I'm barely keeping my eyes open as I'm writing this. This is when you know, the day has been productive. 🙂
You've might have noticed I'm really into cupcakes again. My mind has been boggled with cupcake recipes such as triple coconut cupcakes, chocolate vanilla cupcakes and many more! (Don't worry, I promise there won't be any cupcake recipes for the rest of the week.) There are so many interesting flavor combinations. Also, as I've mentioned before, I got these really cheap piping tips from eBay a while ago. These piping tips might be one of my best.buys.ever. Seriously, I don't think I ever need to try any expensive Wilton piping tips. The quality of the material might be a little bit less than the fancy ones you get from the store, but the effect is equally pretty. So I've been playing around to elevate my piping technique and I tried one of the tips in today's recipe: Strawberry Chocolate Cupcakes.
To make these cupcakes you will need room temperature butter. Make sure your butter is at room temperature to cream the butter and sugar. Once creamed, you will add half of the dry-ingredients and half of the wet-ingredients. Mix until just combined and add the remaining ingredients. It's important to stop when your mixture is nicely combined, because overmixing will give you tough and dry cupcakes. I guarantee you, that's not a nice contrast to the creamy and smooth strawberry buttercream. After you've combined all the ingredients, you will bake these coffee babies for about 20-25 minutes. Remember to let the cupcakes cool completely before frosting.
The buttercream for this recipe is very fluffy and super smooth. To create the best strawberry flavor, I added fresh made strawberry puree to the mixture; so easy to make and simple too! No hassle with artificial crap. However, if strawberries are difficult to get or simply too expensive, you could also get a small bottle of strawberry essence. I reckon it should taste good too. Once you've combined all the ingredients to a fluffy mixture, you can start frosting your cooled coffee cupcakes: Transfer to a zip-loc with pipeting tip and start your cupcake-artwork. Serve the cupcakes at room temperature or store in an airtight container in the fridge. However, storage might not be necessary beause, these cupcakes didn't last more than a day…
Strawberry Coffee Cupcakes
2014-04-20 23:52:42
Serves 12
Soft and buttery coffee cupcakes topped with a delicious strawberry buttercream. These cupcakes taste slightly bitter due to the espresso, but matches the sweet strawberry cream perfectly.
Ingredients for the cupcakes
60 g unsalted butter, room temperature
150 g caster sugar
190 g all purpose flour
½ tsp baking powder
½ tsp baking soda
2 Tbsp espresso powder
180 mL buttermilk
1 large egg
2 tsp Kahlua/coffee liqueur (optional)
¼ tsp salt
Ingredients for the frosting
80 g unsalted butter, room temperature
110 g confectioner's sugar
180 mL strawberry puree
a couple of sliced strawberries for decorating
Instructions
Preheat the oven to 180C and line a muffin pan with cupcake liners.
In a small bowl, mix the flour, baking powder, baking soda, espresso powder and salt. Set aside.
In another small bowl, mix the buttermilk, egg and coffee liqueur. Set aside.
In a large bowl, cream the butter and the sugar.
Add half of the dry-mixture and half of the wet-mixture to the creamed butter. Mix until just combined.
Add the remaining ingredients and mix until just combined.
Divide the batter over the cupcake liners.
Bake the cupcakes 20-25 minutes at 180C or until golden brown and a cake tester comes out clean. Let the cupcakes cool completely before starting the frosting.
To make the frosting, mix the butter and sugar until fluffy. Add the strawberry puree and mix well.
Transfer the frosting to a zip-loc bag and pipe onto the cooled cupcakes. Decorate with slices of strawberry.
Writing Temptations http://www.writing-temptations.net/