Amazing moist and flavorful banana bread stuffed with chopped walnuts and plump raisins.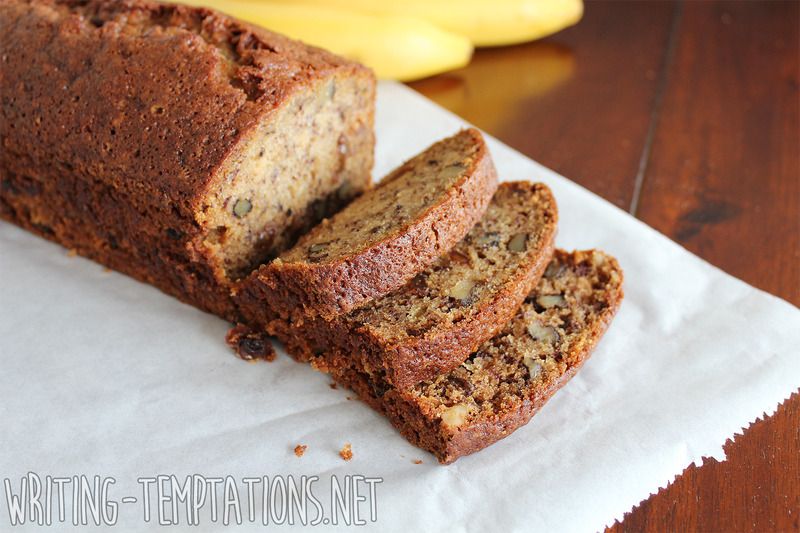 Hello~~~ this is me crawling out of my cave. Kind of anyway hehe.. It's been a while since my last post. After the Key Lime Cupcakes, I just couldn't find time to properly write and bake recipes. A busy schedule, personal thingies and the occasional migraines (the joy xD) are my excuses. So please forgive me 😛 The next few weeks I'll try to post about once a week, because I really need to focus on work, education, personal life and health. Blogging has never been and never will be my full time job. It's my hobby and I hope you understand.
Anyway, today it's time for another delicious recipe! I'm making up the silence from the past few weeks with one recipe, one amazing recipe. I wrote today's recipe for my dad's girlfriend. As she doesn't like the creamy and buttery, I made a super moist (butter-free) banana bread. It's moist (did you know banana makes cupcakes moist too?), it's flavorful, it's fragrant AND it's oh so easy too. Really, what more could you want? It's exactly the way I like it.
To make this banana bread, you'll need ripe bananas. No slightly-green and no lightly-browned bananas. No, you'll need full ripe bananas. Preferably the really dark brown ones because you'll want that immensely sweet banana flavor. But don't you worry. Bananas not ripe enough? Turn your oven on low and pop your bananas in the oven for 20-30 minutes. They skin will turn pitch black, but the bananas on the inside will be super soft and sugary sweet. Yum. Perfect for banana bread.
As for the filling, I used chunks of walnut and good quality plump raisins. As my dad's girlfriend loves raisins and walnuts, I made sure to add plenty of both. However, feel free to add as much ar little as you'd like. You can even switch to other nuts and dried fruits if you want to. Add what you like best. You'll want this delicious banana bread adjusted to your flavor 😉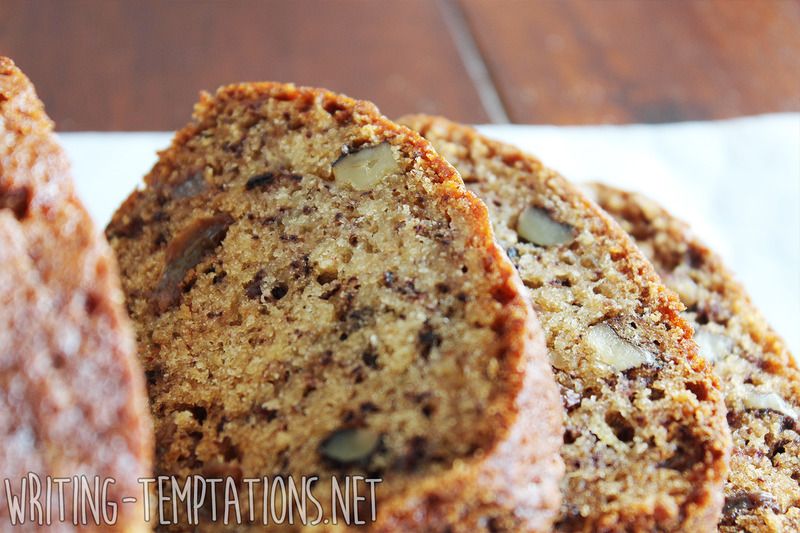 Once you've got your ingredients going, all you have to do is mix the dry ingredients with the wet ingredients. To ensure maximum moistness, mix these two until just combined. Over-mixing will result into dry and tough banana bread. It's like my muffin recipes. Bake the cake on low (160 C) for 1 hour and 20 minutes or until a cake tester comes out clean. Let it cool slightly before digging in 😉 Enjoy!
What do/would you add to your banana bread?
Love,
My Linh
Ultimate Walnut & Raisin Banana Bread
2015-05-17 16:58:36
Serves 14
Amazing moist and flavorful banana bread stuffed with crunchy walnuts and plump sweet raisins. This is the ultimate banana bread.
Ingredients
220 g all purpose flour
2 tsp ground cinnamon
½ tsp ground ginger
¼ tsp ground cloves
1 tsp baking soda
¼ tsp salt
100 g raisins
70 g walnuts, chopped
3 ripe bananas
2 eggs (L)
300 g caster sugar
120 mL vegetable oil*
60 mL skim milk
Instructions
Preheat the oven to 160 C and line a cake tin with baking paper or spray with baking spray. Set aside.
In a bowl, combine the flour, cinnamon, ginger, cloves, baking soda and salt. Using a spoon, give it a quick mix.
In a small bowl, add 1 tablespoon of the flour mixture, the raisins and the chopped walnuts. Mix until the raisins and walnuts are completely coated with flour. Set aside.
In a mixing bowl, mash the bananas until completely smooth.
Add the eggs, sugar, oil and milk. Mix until well combined.
Using a spatula, fold in the flour mixture until just combined. Take care not to overmix.
Add the flour-coated walnuts and raisins. Fold until just combined.
Pour the batter in the cake tin. Bake the banana bread at 160 C for 1 hour and 20 minutes or until a cake tester comes out clean.
Notes
* Any flavorless oil. I used sunflower oil.
Writing Temptations http://www.writing-temptations.net/