Soft sweet buns filled with a delicious creamy vanilla-coconut filling. The grated coconut adds a nice texture to the fluffy buns.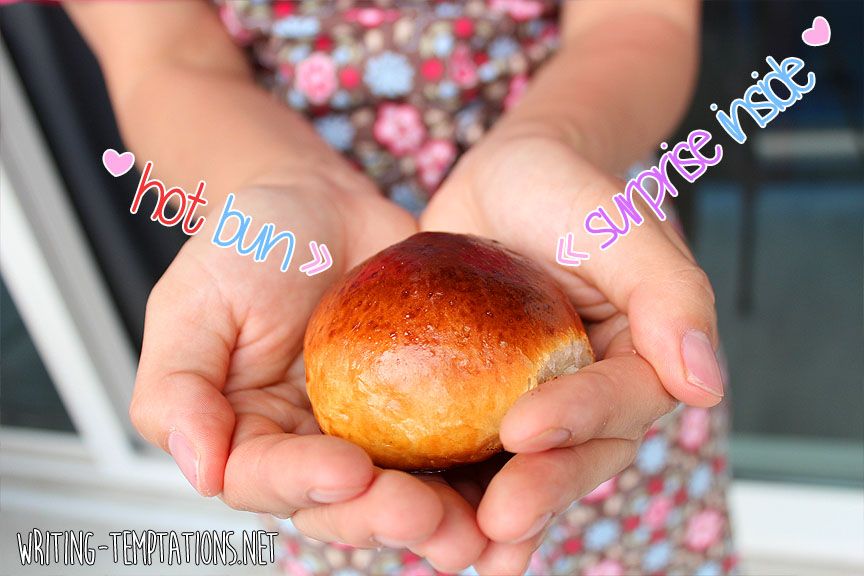 Hi cuties! It's been a while since my last recipe, right? I'm so so sorry, but I do have GREAT news (for me anyway hehe…) As you guys might know I was busy finishing the last steps to my Master's degree in Pharmacy. And guess what?! It's in the pocket~~!!! *does happy dance* The graduation ceremony isn't until the end of August, but all 360 credits (= 6 years) have been uploaded to my name. Whoop-whoop!! Anyway, to celebrate this joyful event (and to make up my absence hehe…) I'm sharing a special recipe today: Vanilla Coconut Sweet Buns.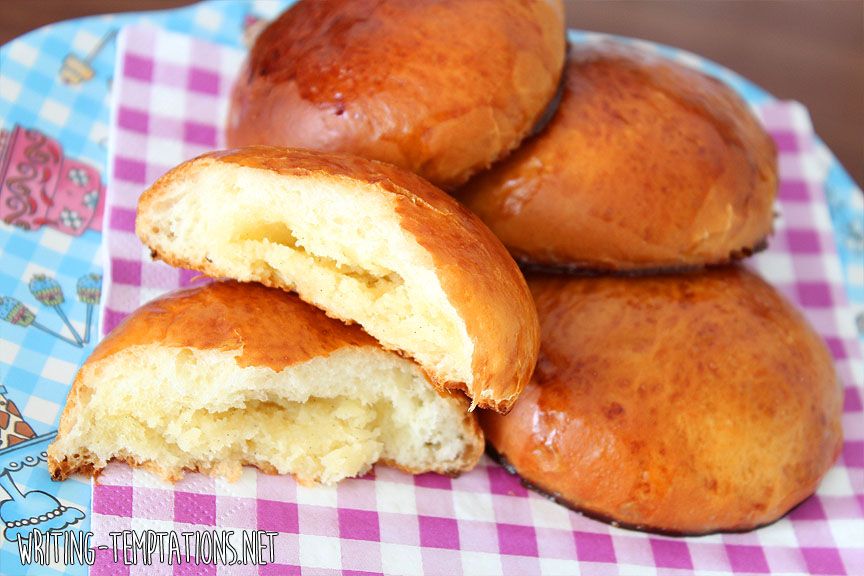 Now, I won't lie to you ladies (and men?): This recipe takes quite some time to make. I wouldn't mark this as a 'quick' recipe, but it's definitely easy ánd delicious. The smell of these buns filling your kitchen, the soft and fluffy dough to sink your teeth in, the amazing filling spreading through your mouth.. Man, lure my sleepy head out of bed with thesel any time. The filling is the best part about these buns: it's creamy, it's fragrant, it's sweet and it has texture from the grated coconut too! Nothing better.. ♥
To make the dough, you will start with a 'sponge starter dough'. This dough is like the pre-dough and makes the buns extra fluffy by adding an additional proving-step. Once you have the starter dough, you will mix it with the remaining ingredients for the final dough. Then, you will give the dough another prove. After the second prove, you will cut, fill and shape the buns. Don't be shy to fill your buns with a heaping teaspoon of delicious vanilla coconut cream filling; I can assure you won't regret it! 😉 Finally, give the buns their last prove. It's the last step to soft and fluffy.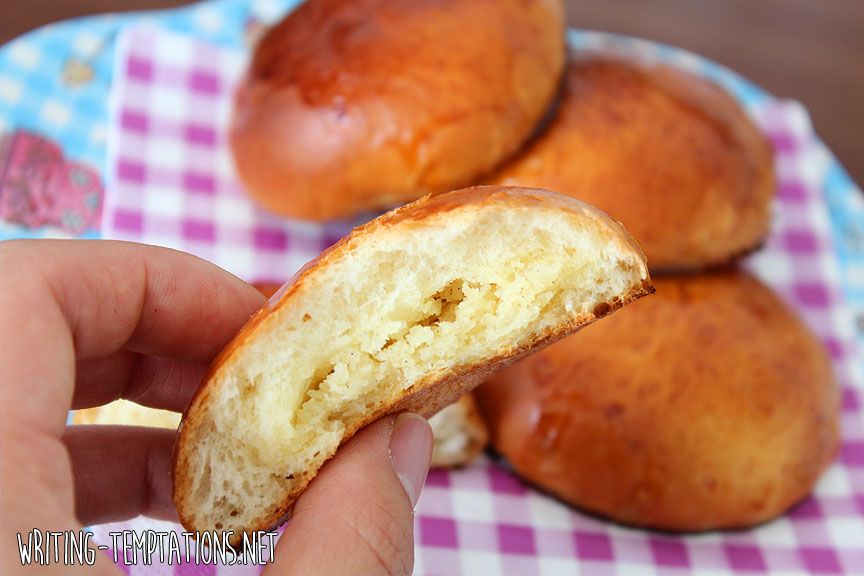 Brush your proved buns with an egg wash and finish the buns by popping them into a preheated oven of 150C. Then, you will crank up the heat to 180C and let them bake to a nice light golden brown color. Once golden, you will turn the heat back down to 150C and finish baking to a total time of 20 minutes. Oh and be warned: you will have to take care not to burn your fingers and tongue, because, trust me, you will want to dig in straight away! 😛
Vanilla Coconut Sweet Buns
2014-07-13 23:26:24
Super soft and fluffy sweet buns filled with a creamy vanilla filling mixed with grated coconut.
For the sponge starter
1 medium egg
85 g lukewarm milk
175 g bread flour
12 g milk powder
½ tsp yeast
For the dough
Sponge starter
65 g granulated sugar
125 g bread flour
½ tsp yeast
1 tsp salt
30-40 g lukewarm water
38 g unsalted butter, cubed and softened
For the filling
90 g unsalted butter, softened
50 g granulated sugar
40 g milk powder
40 g grated coconut
seeds from 1 vanilla bean
egg wash (optional)
Instructions
1. In a small bowl, knead the ingredients of the sponge starter to a slightly sticky dough.
2. Put the dough in a lightly-greased bowl, cover and prove the sponge starter 1-2 hours or until doubled in size.
3. In a large bowl, knead the proved starter dough with the sugar, flour, yeast, salt and water for the dough. Add the water little by little and stop once you have a soft (not sticky) dough.
4. Incorporate the butter one by one in the dough.
5. Knead the dough until the dough is soft and pliable. The dough should reach the membrane state.
6. Put the dough in a lightly-greased bowl, cover and prove the dough 1-2 hours or until doubled in size.
7. While proving, prepare the filling by mixing all the ingredients for the filling. Let the filling set slightly in the fridge.
8. Punch down the dough and divide in balls of 30 g.
9. Flatten a piece of dough, place about one teaspoon of filling in the middle and close to form a bun. Make sure to close the seams tightly. Repeat for all dough pieces.
10. Cover the buns and prove 1-2 hours or until doubled in size.
11. Preheat the oven to 150C.
12. Brush the buns with an egg wash and bake the buns at 180C until lightly golden brown. Once lightly golden brown, turn the oven back to 150C and finish the baking process to a total baking time of 20 minutes.
Writing Temptations http://www.writing-temptations.net/