Crunchy sweet toast with vanilla and coconut flavor. Have these yummy toasties for a Sunday breakfast or as a snack.
Do you guys remember last week's sweet buns with vanilla coconut filling? If not, you should definitely go back and try that recipe! The buns are soft and delicious, and the filling is simply ah-maze-balls! It's oh-so sweet and fragrant. Yum~~! ♥ Not an overstatement 😉 So as I was testing the recipe, I had some left-over filling and was curious as to how the filling would taste on toast. And so me and my boyfriend each grabbed a slice of bread and spread some (maybe a little more than some…) filling onto both sides and popped them in the toaster. The result? Delicious sweet goodness!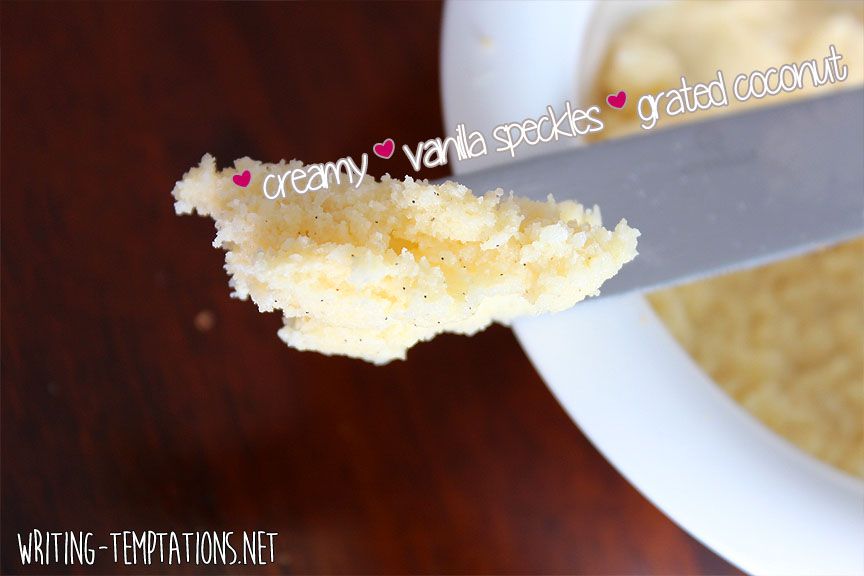 So today's recipe is so easy it shouldn't even be called a recipe. I'm sharing it anyway, because everyone just has to try this toast. Yes, especially YOU. 😉 Just spread a thick layer on both sides and toast or grill it. Whatever work for you; life is already difficult as is, right? Oh, and don't mind the itsy-bitsy almost-burned parts: Those are the best parts, caramelized-like! ♥
Vanilla Coconut Toast
2014-07-20 22:58:32
Serves 4
A delicious sweet sunday breakfast or just a snack. These toasties are crunchy, sweet and taste like vanilla-coconut heaven!
Ingredients
4 slices of bread
23 g unsalted butter, softened
13 g sugar
10 g milk powder
10 g grated coconut
seeds from 1 vanilla bean
Instructions
Mix all the ingredients, except the bread, to a creamy mixture.
Spread a layer of mixture on each sides of the slices of bread.
Toast the bread until golden brown.
Serve immediately.
Writing Temptations http://www.writing-temptations.net/