Pan-fried dumplings with delicious vegetarian stuffing! Great as a snack, part of a dim sum or to complement a simple instant noodles. Perfect for freezing too.
I'm a dim-sum (aka yam cha) monster. Seriously. Could eat it all day, every day, for the rest of my life. Not kidding. I'm sure I'm not the only one, right? I mean, who can resist a table full with soft steamed pao, silky smooth cheong fun and beautiful translucent overly stuffed dumplings? No one in my family can anyway. Nomnom.. That's how food heaven tastes like, guys. Oh and don't forget the tea of course. No, can't forget the tea 😉
Anyway, one of my favorite dim sum dishes to make at home are dumplings. Because, unlike a lot of people think, dumplings are super easy to make. Especially when you go for store bought wrappers. Say what?! Yes, you read that right. Store bought dumplings wrappers are almost as good as homemade wrappers nowadays (excluding har kau wrappers). It saves so much time (really) and you'll still have awesome dumplings. No one will notice (or care). And let's be honest here, who has time to fuss over homemade dumpling wrappers when the stores have a failproof option? I don't. So store bought it is 😀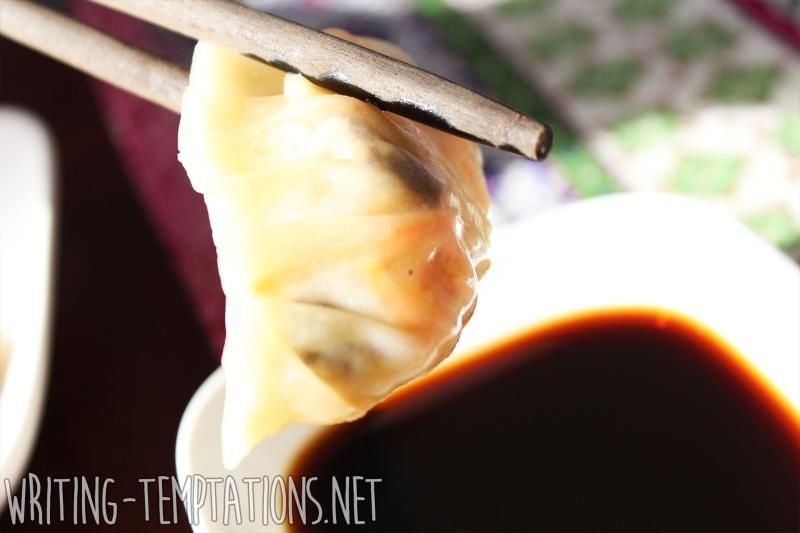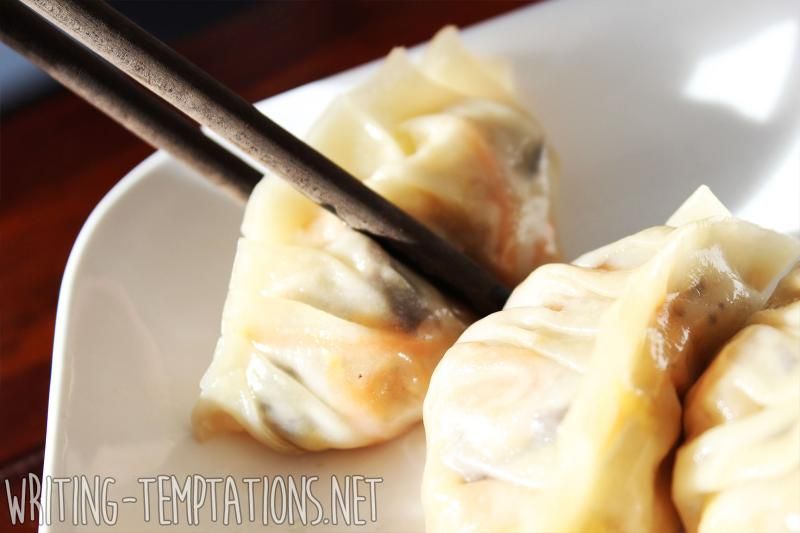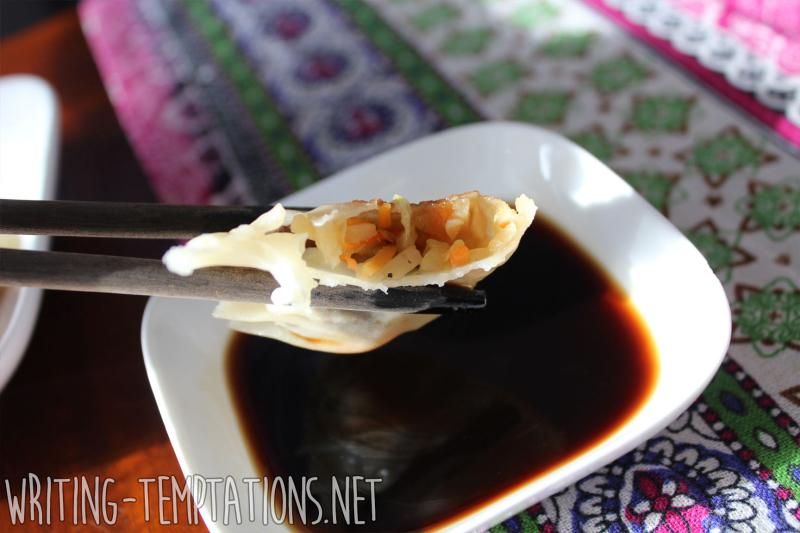 Now, usually dumplings are stuffed with some kind of meat and/shrimp filling. However, today I wanted to share a dumpling recipe that almost everyone can eat. An unconventional dumpling recipe: vegetarian dumplings. These dumplings are filled with julienned carrots, shredded cabbage, bamboo shoot strips and chopped onions flavored with some soy sauce. Super simple, but so good! Trust me 🙂 Oh, and if you're not a fan of one of the ingredients, you can simply leave it out and add some other vegetable of your choice. It's really all up to you!
Once you've got your filling going, all you have to do is place a heaping teaspoon of filling in the middle of your wrapper and wrap it up! The key is to add plenty of filling, but still being able to wrap it properly. Now, there are quite some ways to pleat your dumplings. I usually pleat them like har kau. (If you guys would like to know, I'll share a separate post on my pleating technique.) However, ultimately, it all tastes the same so it doesn't really matter. Go for whatever floats your boat and you're good to go 😉 Really.
To prepare your dumplings you have three options:
steaming
pan fry-steaming
frying
Personally, I love pan fry-steaming. This technique creates steamed dumplings with a beautiful golden brown bottom. Just like they sell in restaurants. Ohhh the.goodness. Such a soft dumpling with a bit of crisp. Yum! (Everyone loves crisp, right?) However, the pan-fry steaming method is a bit "unhealthy", because it involves adding oil. Therefor, if you're looking for the most healthy option you'll have to go for steaming. (I'm not even going to explain deep frying lmao) Whichever way you choose, serve this dumplings straight away. They're best served hot. Don't forget to add your favorite dipping! We love to eat dumplings with red vinegar (I'm an acidic-fan!), but you can easily go for some sweet chili or soy sauce. Either way, ENJOY! 🙂
Instant noodles and dumplings for lunch… Oh, the good life.
Love,
My Linh
Have you ever tried dim sum? What's your favorite?
Vegetarian Dumplings
2015-03-07 21:13:03
Ingredients
10-12 dried shiitake mushrooms
1 onion, chopped
3 cloves of garlic, finely minced/grated
2-3 carrots, julienned
½ napa cabbage, (washed, drained and shredded)
1 can bamboo shoot strips, chopped
1 Tbsp sesame oil
2-3 Tbsp soy sauce
1 pckg gow gee wrappers, thawed*
Instructions
Soak the shiitake mushrooms in warm water until soft. Drain, squeeze out excess water and chop into small pieces. Set aside.
Heat the sesame oil in a pan on medium-high heat.
Add the onions. When the onion start to become translucent, add garlic.
Add carrots, cabbage and bamboo shoot. Cook for 1-2 minutes.
Add soy sauce to taste. Mix and set aside.
Take the gow gee wrappers and fill each with about 1 teaspoon of filling. Cover dumplings with a wet tea towel to prevent the wrappers from drying out.
Pan-fry or steam dumplings 10-15 minutes or until wrapper is translucent.
Serve immediately with dipping sauce of choice.
Notes
* Cover gow gee wrappers with a wet tea towel to prevent it from drying out.
Writing Temptations http://www.writing-temptations.net/