When I was little we went to Paris every summer to visit my grandmother and some other relatives. Everytime we went to Paris, we'd visit "Tang Frères" (a big asian supermarket) at least once. The adults would do HOURS (I'm not even kidding…) of grocery shopping and the kids would: wait, get bored, stroll around, get lost, panic and then find out the adults are only one aisle away. It doesn't sound like a trip kids would like to join, but there was a big plus-side to tagging along:At the end, everyone would get a delicious fresh Vietnamese roll. Yes, a whole Banh Mi to myself! If you've ever had a good Vietnamese roll, you'll know this is the best.bribe.ever.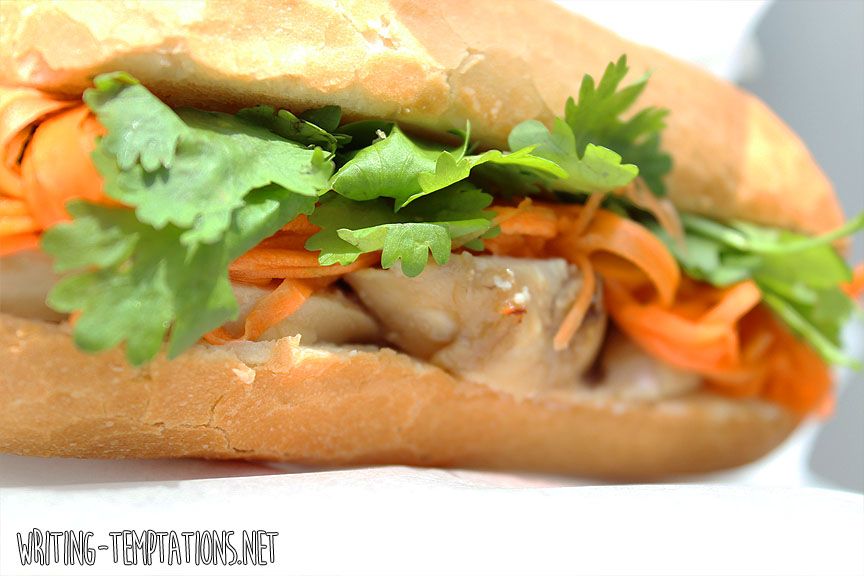 Today, I'm sharing my attempt to revamp my childhood memory with you guys. Traditionally, banh mi is often made with pork. However, I'm sharing a recipe for these delicious sandwiches filled with chicken because I like it better than pork (plus chicken is supposedly healthier too). I'm making "Banh mi ga". The best part is that these rolls are filled with just 5 ingredients:
A thin layer of mayonaise
Thick slices of marinated chicken
Sweet and sour carrots
Slices of cucumber
Fresh cilantro
You will apply just a thin layer of mayonaise. Enough to add some creamyness to your roll, but not too much as it will overpower the delicious flavor of the chicken. I used yoghurt-mayonaise, just like I did with the cheese omelette and spinach wraps. But it's just a personal preference. Feel free to use whatever mayonaise you like, though.
You will love the slices of grilled marinated chicken breast, because they are super juicy and packed with flavor. The marinade is seriously amazing: the perfect balance between sweet, salty and sour. And don't worry, if you're not to keen on getting you hands dirty, there's a little secret I'll share with you: the zip-loc bag. Seriously, it's a lifesaver when it comes to marinating. You will need to put all the ingredients for the marinade in the bag, along with the chicken. Zip it up, give it a good shake and place it in the fridge for at least 1,5 hours. This trick is a matter of minutes (maybe even seconds)! Quick and easy. No hassle with dishes either (because who has time for dishes nowadays?). I can't make it any easier for you. Once the chicken has absorbed the delicious marinade, you will broil it for 16-18 minutes (flip over halfway through). Then, you will give it a rest for at least 5 minutes to lock in all the delicious juices. Don't skip this step, because resting will turn your ordinary piece of chicken breast in a juicy piece of heaven. After resting, slice the chicken breasts in thick slices, very thick slices. As thick as you like. After all, this roll has to be a delicious treat, right?
Finally, I will give you my two cents on the sweet and sour carrots: Use homemade or get your favorite jar of store-bought stuff. I prefer homemade, because it let's you control the balance between sweet, sour and salt. It's super easy: a mixture of water, sugar and vinegar. There's no magic to it. (If you'd like a recipe, please let me know.) However, when I'm in a lazy mood, I might just *accidentally* drop a jar in my shopping-cart. Whoopsie… No one will know anyway. (Let's keep it a secret between you and me.) Besides, it saves a whole lot of time and effort. Win-win, right?
Finish your roll with cucumber and a handful of cilantro. As much or little as you'd like. For me, I LOVE cilantro. It's one of my favorite herbs. The rolls destined for my tummy are packed with it. I literally stuff in as much cilantro as the roll will hold and sneak in some extra too. YUM.
One bite of this roll will blow your mind: Crunchy bread with creamy mayonaise, juicy chicken, delicious sweet and sour carrots, crunchy slices of cucumber and fragrant cilantro. So, put away your peanut-butter sandwich and make these Vietnamese chicken rolls. You will love it, your family will love it, everyone will love it. You know you want to. 😉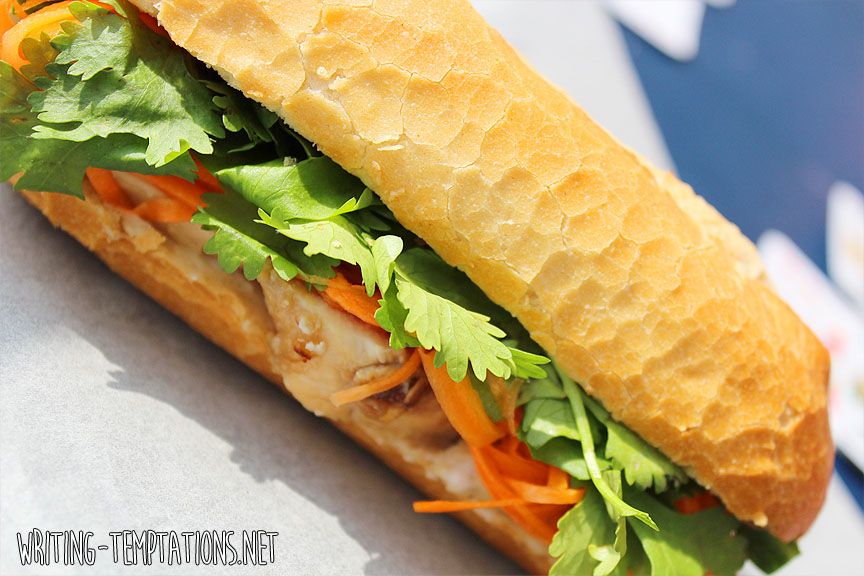 Love,
My Linh
Vietnamese chicken rolls
2014-03-30 22:50:29
A classic asian roll. Sandwich filled with juicy chicken, pickled carrots and fresh cilantro. Great for lunch or a light dinner.
Ingredients
100 mL fish sauce
100 mL lime juice
5 tablespoons sugar
3 cloves garlic, minced
¼ teaspoon salt
3 chicken breasts
6 bread rolls
6 teaspoons mayonaise
½ cucumber, sliced
15 gram cilantro
jar of pickled carrots
Instructions
Marinate the chicken at least 1,5 hours in the mixture of fish sauce, lime juice, sugar, garlic and salt.
Broil the chicken 16-18 minutes (flip over halfway through) or until fully cooked through.
Let the chicken breasts rest for 5 minutes before cutting into slices.
Cut the bread rolls open and spread 1 teaspoon of mayonaise on one side of each bread roll.
Fill the bread rolls with the chicken slices, cucumber, pickled carrots and cilantro. Serve immediately.
Writing Temptations http://www.writing-temptations.net/