Delicious creamy chocolate truffles with a nutty core and covered in a layer of white chocolate.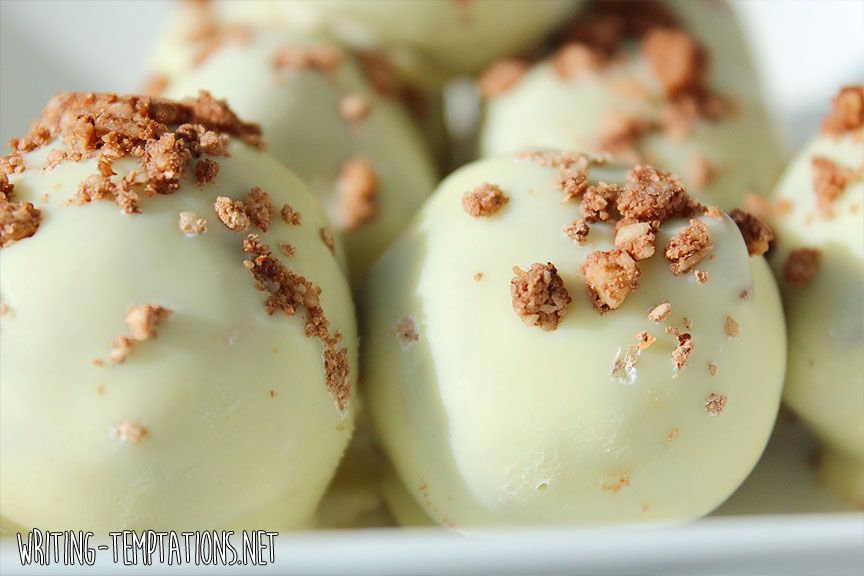 A while back I saw Yak Man posting "not-so healthy, healthy truffles" and I got inspired to create my own truffles: I wanted to make truffles with a yummylicious core. Although her creation was my inspiration, I'm sorry to tell you my truffles aren't healthy at all. The truffles are, however: crunchy, nutty, soft, creamy, sweet, chocolatey and super delicious! Seriously, I made a double batch (because I was testing) and after a couple of guests for our appartment, they were all gone! All 50 truffles. So I suggest we all just run an extra mile together, add another heap of veggies to our plate and add these babies to our tummy. Seriously, these truffles look and taste like you've put loads of effort into it, while you actually just need the few ingredients and a (small) foodprocessor. Yes, just those two. Not even an oven! Yes, didn't I mention it was no-bake? 😉 Just perfect for a lazy high tea.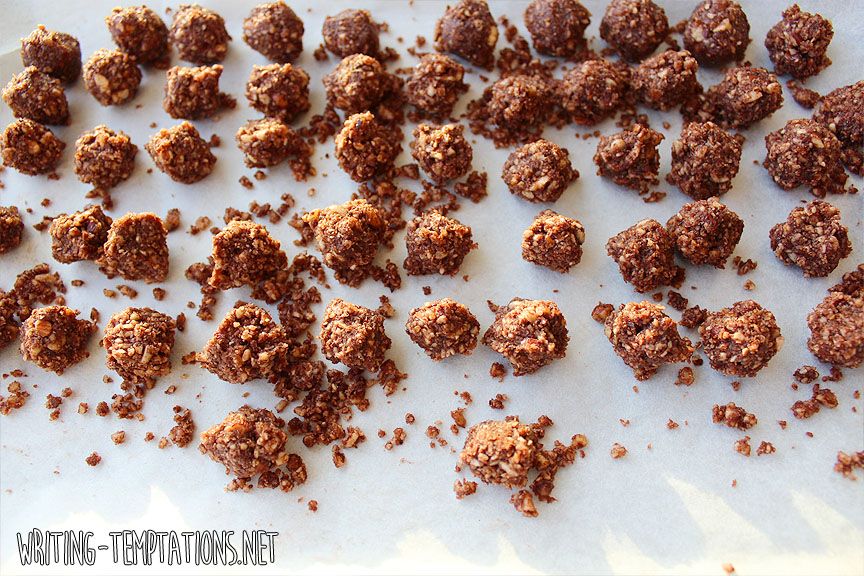 We start with a simple, but amazing core made out of just a few simple ingredients: (a mix of) nuts, cocoa, a whee bit of sugar and finally, a knob of butter to bind it all to a core. For the nuts I used a mix of unsalted almonds and hazelnuts, but you could use just any kind you like. (I'm thinking pistachios and mint for the next recipe ♥) As for the butter, you could substitute it with shortening. It will probably affect the flavour a little bit though. Anyways, when you've scraped all your ingredients together, put everything in your processor, give it a couple of pulses aaaanddd 1-2-3 the core mix is done! Roll the mix into little balls and put it in the fridge to chill. If your mix won't form little cores because the butter has gotten too soft, you can put the mix in the fridge for about 30 minutes, before rolling it into little cores.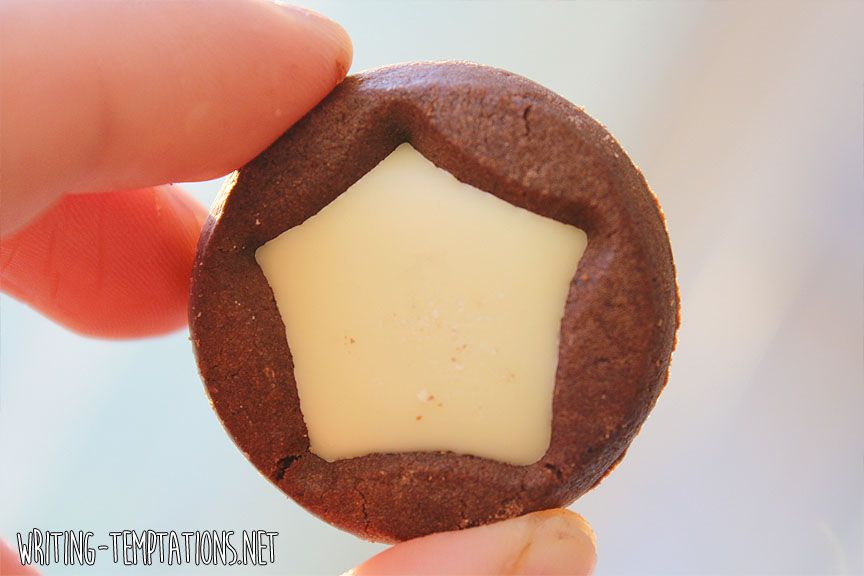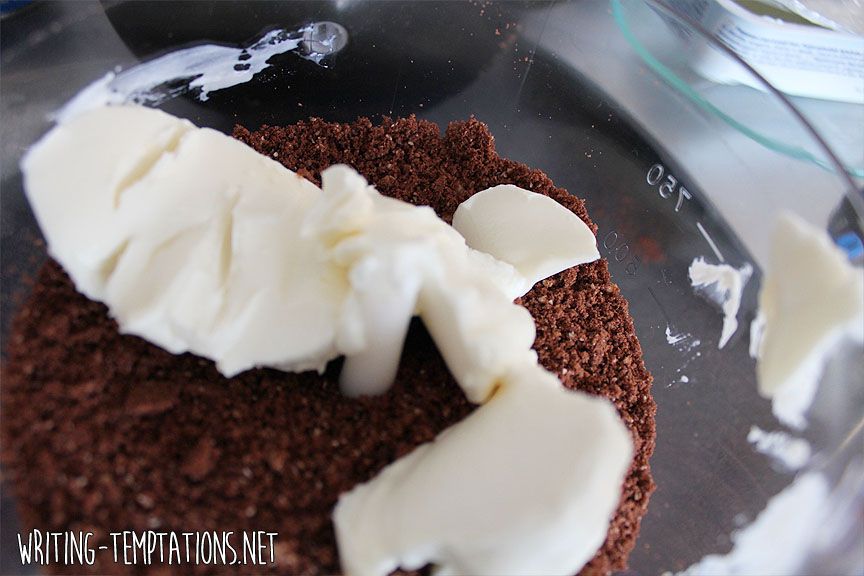 For the cheesecake-cookie mix, we need just 2 ingredients! These are: your cookies of choice and a bit of (light) cream cheese. And yes, even spreadable cream cheese is just fine. How easy can it get?! To make the mix, take out your foodprocessor again, pulse the cookies to fine crumbs, add the cream cheese and pulse another couple of times until its evenly mixed to a gooey dough. I used some generic "LU Prince Mini Stars★" cookies for these truffles, but any kind of regular cookie should be fine. Especially sandwich cookies would do great. As for me, I just happen to love this crumbly chocolate cookie with the creamy white chocolate star in the middle. *drools*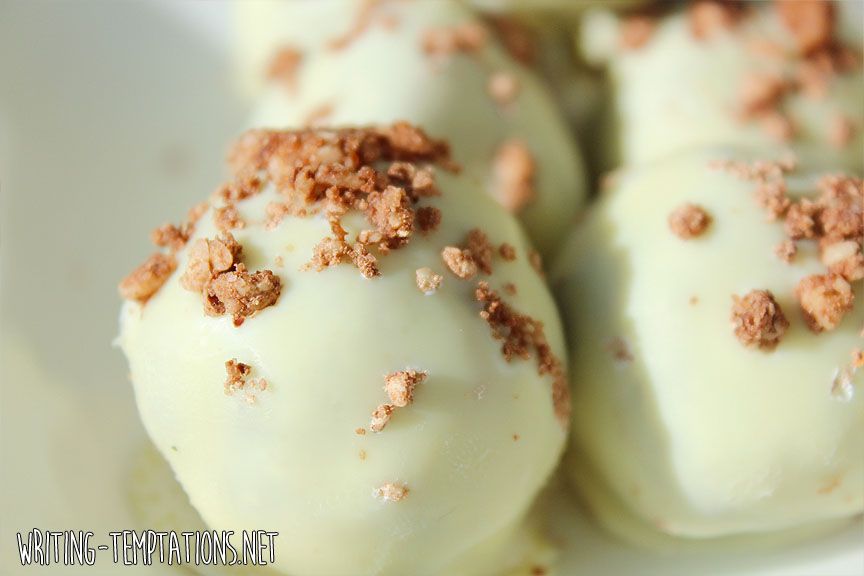 To assemble everything to luxurious white chocolate truffles, you wrap the cheesecake-cookie mix around the cores. I used about 1-2 tablespoons of mix per core. You could actually do this any way you like. I flattened a bit of mix to a circle, put the core in the middle and then wrapped the rest of the mix around the core. There is no "right" way to do it though. Just work as you go. It will turn out just fine; it's no magic.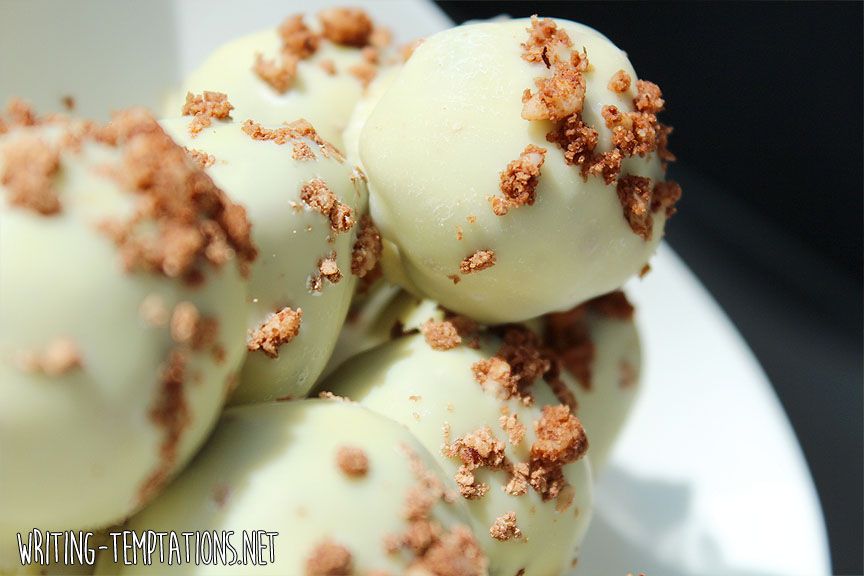 Finally, dunk the truffles in melted white chocolate and place them on a piece of baking sheet to let the chocolate set. If you'd like, top the truffles with some left over nut-mix right after you've coated one with chocolate (or they won't stick). Use a deep bowl for the melted chocolate to make the coating easier. Be warned: things might get messy, especially when you're as clumsy as me! :') Make sure you have plenty of space to work on and plenty of space for weird arm movement to place the truffles with little damage on your sheet. As for the chocolate, (again) you could use any kind you like. Originally, I was going to use mocca-chocolate, but my favorite bar was out of stock this week so I ended up with plain white chocolate. However, the truffles still turned out to taste amazing, which shows how versatile this recipe is! Give it your own twist!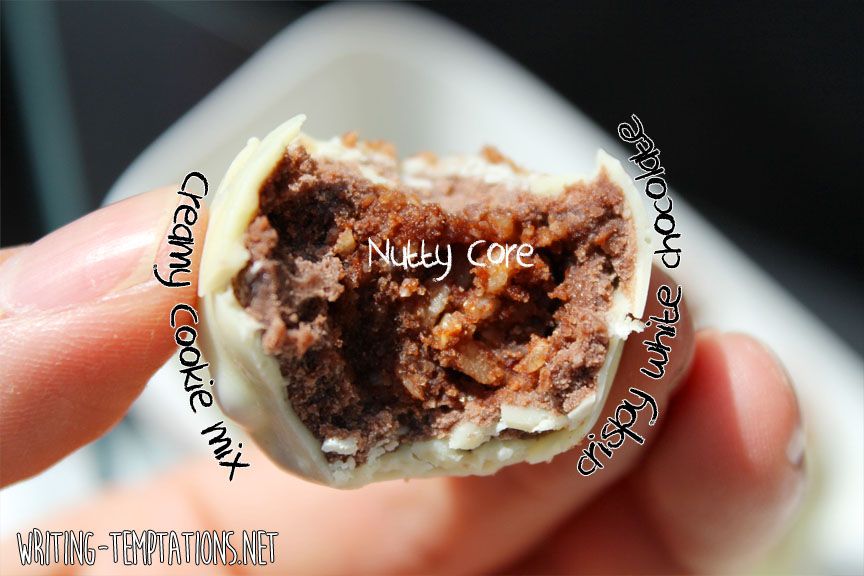 Which flavors would you combine for these truffels?
Love,
My Linh
White Chocolate Truffles with Nutty Core
2015-07-13 11:59:50
Delicious creamy chocolate truffles covered in white chocolate with a crunchy nutty filling in the middle.
Ingredients
90 g nuts*, unsalted
20 g butter, unsalted and cold
25 g caster sugar
1 Tbsp cocoa powder
225 g cookies*
90 g (light) cream cheese (spread)
200 g white chocolate, melted and tempered
Instructions
Pulse the nuts, butter, sugar and cocoa in a food processor until you get a coarse mixture.
Roll balls of 0,5-1cm and place in fridge to set. Set aside about 1 tablespoon of filling to use as decoration.
Put the cookies in the foodprocessor and pulse until you get a crumbly mixture.
Add the cream cheese and mix until mixed evenly.
Wrap about 1 tablespoon of creamcheese-cookie mixture around the nutty core.
Dip the truffles in the white chocolate and decorate with some of the leftover nuts-mixture.
Place the truffles on a piece of baking paper and let the chocolate set completely.
Notes
* Choose whatever you like. I used a mixture of almonds and hazelnuts.
** I used generic Prince Mini Star cookies.
Writing Temptations http://www.writing-temptations.net/